To the layman, it's a question that doesn't seem hard to answer.
In a general sense, SEO comes down to a range of guidelines that must be followed to ensure the best results
That is true, however, we're here to tell you that it's not just a walk in the park and for good reason too.
SEO is one of the most important investments that any small, medium or large company can make.
It is the difference between a company's success and failure, and in most cases, is responsible for the vast majority of their traffic, sales, and return on investment.
Walk around any central business district and you'll see that the biggest and most valuable buildings don't get put up overnight, they take time to construct.
The best projects require careful planning and consideration and then putting this plan into action once your goal has been determined.
You might've done your research and found an agency that suits your needs, however, no agency can guarantee results. A good agency will constantly tell you, SEO takes time.
So why does SEO take so long? We'll tell you.
Times Have Changed
Over a decade ago, SEO was in a very different state than it is now. Even technology as a whole was in an archaic state.
iPhones were starting to take over, social media platforms like Facebook were becoming internet juggernauts and SEO guidelines were starting to force businesses to earn rankings through quality, user-oriented content.
Even companies like J.C. Penney were caught up in the volatile guideline changes and were swiftly penalised due to a suspicious link scheme.
It was a different time, and with time comes changes. The core foundation of Google's principles of getting good organic rankings are still largely felt today, just merely adapted to.
Writing good quality, well-researched, keyword-rich content, and link building from reputable sources is still an imperative part of SEO today. Not to mention that website optimisation and speed have never been more prevalent in an SEO campaign than before.
Not only Google's algorithm changed, but people changed too. Their search queries got longer, more descriptive, more specific and required the most relevant information.
The web is huge, with trillions of pages in Google's index and they need to accurately and precisely give the user the most relevant, and highest quality information related to their search.
That is not an easy task by any means.
Google had to respond, and that's why updates such as Hummingbird and BERT aimed to provide better search results and improve language understanding of user's queries.
It's no longer just about 500-word articles full of keywords to get you to the #1 spot. Great content matters most.
Write your content for real users, not search engines. Forget fluffy concepts such as "LSI keywords", focus on the ability to get your message across in an in-depth way that showcases your expertise.
SEO Fundamentals Matter
When it comes to the argument of why does SEO takes so long, it's necessary to note that it's not just about great content.
There is a wide variety of factors that you need to consider when undertaking an SEO campaign.
Not only will this help minimise failure but it will educate you on what it takes to achieve great organic rankings.
You might not have considered:

⦁ User experience (UX) on your website.
How do your users navigate your website? Is it easy for them to do so? You need to ask yourself what your users are primarily going to be doing on your website, and how to ensure that the point from A to B is as smooth as possible.

⦁ Website Optimisation
It's never been more essential to have a website that loads fast and is mobile responsive. Building a great website and perfecting it over time plays a part in why SEO takes so long.

⦁ On-Page Optimisation
Things like meta descriptions for pages and posts, ALT tags for images, keyword implementation and H1-6 tags all play a significant role in your organic rankings.

⦁ Can Google find you?
If Google can't find your website, how can you expect users to? Make sure your website is indexed, and each page has no major errors or flaws. A good way to check is to go to Google and type 'site:yourdomain.com', like below.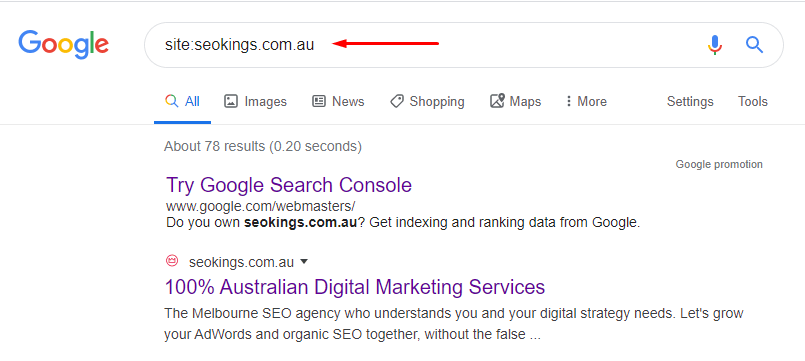 ⦁ Internal Link Structure
Internal links are valuable because they tell Google what pages are relevant, worth indexing and worth showing to others.
Make sure your anchor texts are natural and you link to your cornerstone content (most significant pages) where able to.
Also ensure that any broken or removed links are tagged with the appropriate 404 message, and URL's that have been permanently or temporarily moved should respond with a 301 or 302 redirect respectively.
SEO takes time because it's no longer just about your content ensuring it's user-focused, it's also about ensuring that your user's experience on your website is a positive one.
Website development is an extremely long, and costly process that requires planning, and your website's content and structure will continuously change over time so long as you have traffic flowing through.
This era of SEO is also focused on other Google metrics such as location, history, and device (mobile or desktop). It's important to list yourself in Google business listings, as it gives you a competitive edge for local search results.
Content Is Still Important
Content playing a pivotal role is part of Google's creed that has never faded.
Throughout time, whether it's a core update or a small one, Google is constantly emphasising the importance that good content has on your overall relevancy.
User-focused content became a vital part of their guidelines in late 2010 and still has that same value today.
The internet is increasingly becoming littered with garbage content. Nowadays, content is either subtly plagiarised or extremely drawn out that it no longer becomes engaging or interesting.
It's crucial to be unique when it comes to your content strategy.
Google breaks down their previous advice on how to assess the quality of your content to help you ensure you're offering the best quality content possible
Writing good blog posts is a great way to ensure your content is following SEO practices. It'll also ensure that you regularly have a stream of relevant and fresh, evergreen content to be pushed out.
There is so much competition for every relevant keyphrase you can imagine.
You need to find a unique angle and target keywords that are low-medium competition but target the right type of traffic for your website.
The relevancy of your content to your chosen keywords/keyphrases is interchangeable, so pay attention to what keywords you're including into your content.
The hard and fast rules of SEO is that content can only be ranked if you have a huge backlink structure.
This is true for the majority of the time, but if your content is focused on the user's search query, and it's a relatively low competition keyword, you'll be able to rank very competitively.
Always think to yourself, about how you can write the same topic better than your competition and aim to be different about how you engage your audience.

Your Competition Is Clued In
SEO is a universal digital marketing tactic that any business can implement.
It's used by small businesses looking to push customers to their local shop, as well as eCommerce websites wanting to drive up their conversions. Even more risque sites such as adult services undertake SEO campaigns because they are limited by paid advertising guidelines.
This means that your competition is doing the exact same thing you are. When you're actively competing against them, it can take a while for your SEO campaign to show any outcomes.
SEO takes a long time because the ability to rank highly for competitive keywords gets harder and harder every day.
Agencies, despite their best efforts, might be working at very different paces and providing different results. One may not be better than the other, but SEO is an ongoing practice and those that work to maintain first page rankings will prevail.
Determining where you're at, and where your competition is at isn't a definitive strategy.
Algorithms can change, core updates can be released lowering page rankings, and your competitors may come up with fresh content or infographics that allow for a wider reach.
Good infographics are hard to come by, especially ones that generate a lot of backlinks or social media shares. Infographics are outreach material, so it's important to know what infographics are and how to create them with ease.
Competition is always going to be a difficult factor.
In saying this, if you can't keep up with the frequency of content your competitor is putting out, remember that your overall quality is a metric that holds more importance.
You need to build trust with your users, and Google especially.
This may play into 'why does SEO take so long', but hey, SEO is a long term game.
Moving forward with regular content release, link building, and great user experience will reward you with better rankings, and better visibility.
Realistic Expectations – How Long Could It Take?
It's a question that can be posed when you're asked why SEO takes so long.
The real answer is, how long could it take for what?
The issue lies within the question, implying that there is an 'end date' with SEO which is not the case.
If we're talking about the time before you see any results from your SEO campaign, the general rule of thumb is 3-12 months.
If your website is brand new, with no content, then it may take slightly longer to get any results.
Given that you need your website to be indexed, and then build trust with Google through content will show them that you can follow their guidelines.
The sooner your webpages have been indexed, and they've been optimised to best suit Google's guidelines, the sooner you'll start seeing results.
Google can take several weeks to crawl websites, especially brand new sites.
If your website has been standing on its feet for a while, a drastic overhaul of your webpages could take time for Google to completely re-crawl.
However, not every campaign is suitable for the goals of the business.
If your goals are to get results, then ranking #1 on every keyphrase possible might not provide you with the best ROI.
Instead, metrics such as improving conversion rate, getting quality traffic, decreasing cart abandonment and so forth, may be more beneficial.
Our recent post also broke down the ubiquitous sales claim of every digital marketing agency that guarantees 'rankings in 90 days'.
Honest and targeted approaches to your campaign every month will ensure that you'll be seeing results over time, and not falling for marketing traps like 90-day rankings.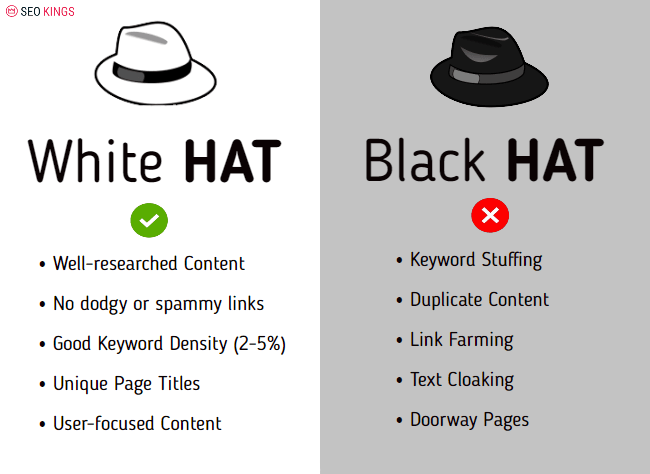 Blackhat tactics were a common prevalence years ago, but Google has gotten harsher on penalties and now only whitehat tactics are employed by reputable companies.
They also provide better returns over time.
What Does The Future Hold For SEO?
There is no real way of telling what the future holds for SEO.
SEO will never die so long as there is a new face around, and because Google is increasingly more user-focused, campaigns will continue to be an ongoing process in order to maintain great results.
Google always releases core updates, such as the 2020 January Core Update which is now affecting rankings and search results.
Their guidance will always come down to that, great content will produce great results.
For the future, it's important to keep a few questions in the back of your mind.
⦁ The user's intent, exactly what they've searched for, and what they're actually looking for.
⦁ What kind of types of visuals and languages are used to appeal to the target audience.
⦁ Their needs, why they're searching for it, as well as their values and concerns.
Years ago, SEO was very mechanical and one-dimensional in the way it worked. Now it's evolving, and technology is a very big factor for this change.
AI will more than likely be involved with the growth and development of SEO, and voice search is sure to become more easily accessible and usable.
One thing seems like it will always ring true, and that Google's overall centre of focus is businesses having to earn their rankings through user-based content.
Summary
In a general sense, SEO does take a long time. There is no end date, but the fact your campaign needs to adapt to changes over time is a healthy thing.
By now, the question of why does SEO take so long shouldn't matter.
The importance of how you can always add to your campaign is the most valuable insight you can gain.
User-focused, unique, original content will put you ahead of your competitors and provide better SEO results in the long term.
Make sure that you are also following the background principles of SEO as well.