Unless you live under a rock, you might've noticed that the social media giant has banned all national and international media content from showing to Australian users.
This is one of the most hard-lined approaches to the recent and ongoing news media bargaining code introduced by the ACCC, which is trying to force huge tech giants such as Google and Facebook to pay Australian news publishers for showing their content on their respective platforms.
Dating back to August 2020, Google also released a letter informing users of the potential changes that may affect how they use their search engine if the new regulatory code by the Morrison government came into effect.
In that post, we mentioned that these publishers would also gain advance notice of algorithm changes and information on consumer data if the proposed bill came into law.
It appears Google is complying with this code, but in stark comparison, Facebook followed up on their claim they would block news on their platform for Australian users and publishers if this draft code was set to put in action.
The original draft code gave Google and Facebook three months to independently or collectively consult with news media publishers on a fair revenue-sharing deal before an independent arbitrator is called in to reach a compulsory agreement.
As it all unfolds, it's important to know how this may impact you as a user or if you're using the platform to advertise your business.
Important Update: Facebook Lifts News Ban (27/02/2021)
UPDATE: 27/02/2021
Facebook has now restored news to Australia, after the ACCC has made amendments to their news media bargaining code after lengthy negotiations.
This means that for Australian users, your newsfeed should now consist of news publishers, and you should also be able to share, like comment and link to all news media publishers websites.
We're not entirely sure what the amendments are to the code, but it is likely that Facebook will have to ultimately pay less, and may only have to broker deals with large news media corporations such as Newscorp, Nine, etc.
Smaller media companies may not be able to independently bargain with Facebook if this is true and would consider these amendments a considerable loss.
Conversely, Google has already struck deals with News Corp, Nine, The Guardian and other news media businesses and are making tremendous headway with several other publishers as well.
Nick Clegg, the VP of Global Affairs for Facebook, wrote an open post about what "really happened".
To summarise, he reiterates that the relationship between news publishers and Facebook is heavily misunderstood, suggesting that news publishers post their content at their own discretion and received 5.1 billion referrals from Facebook last year – worth an estimated $407 million AUD.
He also suggests that Facebook is open to working with news publishers in Australia, but an alternative approach to the code needs to be made as it is unworkable in its current state.
News is back on for Australian Facebook users and ultimately it appears that larger media corporations have won to some degree, albeit at the possible expense of small, regional news media companies operating in Australia who relied on this code to improve their journalistic standard and increase their resources.
How Does This Affect My Newsfeed & How Does It Affect Me?
As it currently stands, users are unable to see, share, like, comment or link to news articles both from Australian and international news publishers.
This means that no national or international news will appear in your newsfeed if you're using the platform from anywhere in Australia.
If you do attempt to share a link to a news media publisher either based here or overseas, you'll be presented with a pop-up warning letting you know why this isn't possible.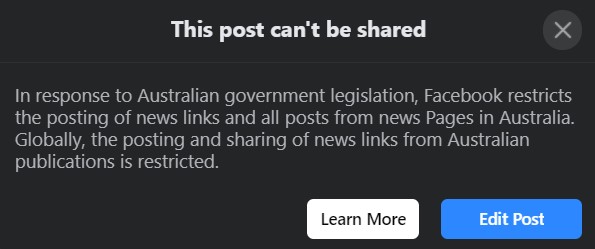 Conversely, if you are located outside of Australia and wish to link to Australian news media sites, you'll also be unable to do so.
For sites that are affected by this boycott of news, Australian news publishers like The Sydney Morning Herald, The Age & The Herald Sun won't be appearing on newsfeeds from this point forward.
Given the intricacies of completely eradicting news from Facebook, there have been a few independent news pages such as the Betoota Advocate – a satirical news website, was also blocked as a source of news media.
Their Facebook page currently has over 800,000 "likes" and was momentarily shut down, but it appears they are now back up and running.
Why Is Facebook Doing This? What's Their Stance?
A news article penned by William Easton, the Managing Director of Facebook Australia & New Zealand, shared some insight as to how Facebook feels about the nature of their relationship with news publishers and the proposed code.
"The proposed law fundamentally misunderstands the relationship between our platform and publishers who use it to share news content. It has left us facing a stark choice: attempt to comply with a law that ignores the realities of this relationship, or stop allowing news content on our services in Australia. With a heavy heart, we are choosing the latter."
He argues that the way news publishers interact with Facebook is vastly different to how Google does, stating they are "inextricably intertwined" with news and publishers do not "voluntarily provide their content [to Google]".
The letter shares some interesting insight to the relationship between publishers and Facebook, which have been summarised below.
In 2020, Facebook generated approximately 5.1 billion free referrals to Australian publishers worth an estimated $407 million AUD.
News makes up less than 4% of content that people see in their news feed.
Facebook has worked with the Australian government for the last 3 years to find a suitable solution that recognises the realities of how Facebook's platform works.
Facebook has been working with 30 Australian news organisations to reach commercial agreements and launch funding programs
Facebook has taken a "nuclear" approach to the bargaining code to show that posting news on Facebook is more beneficial for news publishers than it is for Facebook themselves.
Regarding the code itself, Facebook have stated there are several leading issues they have with the legislation and states that it "fails to address the original outcome it set to achieve".
The three major issues Facebook have with the submission are:
Mandating commercial arrangements with every single one of a large number of publishers regardless of the value they provide to the people who use our products


A process that removes all autonomy to decide our commercial arrangements and uses binding arbitration to determine price over good-faith negotiations


A non-differentiation clause that prevents us from offering commercial terms to certain publishers and changing how we display their content regardless of whether we agree a deal. This means that if one publisher is out, all Australian publishers need to be out.

The most important takeaway from their concerns is the following loose summary From Will Easton, which is that the code mandate sets out to force two digital platforms (Facebook and Google) to enter into an agreement with every eligible news organisation in Australia, regardless of the value these platforms receive in return.
Is This "Ban" Likely To Stay Or Will It Be Lifted?
It's too early to tell but given the hard-lined approach Facebook has taken, it's likely this will continue as an ongoing trend for both Australian Facebook users and news publishers.
Facebook is unhappy with the negotiation demands of the code and as such, requests that the Morrison government to reconsider the "unworkable components" of the proposed law.
Given the fact Facebook suggest that less than 4% of news content is shown in news feeds, it indicates that news media publishers will suffer as a result of this total ban of news and not Facebook themselves.
There is already evidence to suggest that publishers have had a significant drop in traffic, suggesting that when Facebook blocked news from being shared on their platform, Australians did not shift to other platforms as a mean to compensate for this.
According to NiemanLab, traffic to Australian sites from readers outside of Australia dropped by 20% day-over-day.
The ban was enforced at 5:30 AM (AEST) and within 24 hours, there was a 93% decrease in page-views from Australian users.
Australia's treasurer, Joshua Frydenberg has been actively in talks with Mark Zuckerberg, Facebook's founder and chief executive on finding a solution to combat the total ban on news, but it is unsure of where this conversation will ultimately lead to.
In the meantime, news websites are providing users with the ability to download their app in order to stay to up-to-date with their latest news.
Who Does This Code Benefit If Passed?
The bill will be debated through the Senate and if successful, will pass and will become law – meaning that Australian news publishers who are eligible will receive compensation from Google and Facebook who will be forced to pay for their content.
News corporations owned by Rupert Murdoch and Nine Entertainment would be included in this proposed deal, as well as ABC, SBS, Seven News, Guardian Australia and other smaller news organisations depending on if they meet the threshold of $150,000+ annual revenue.
The belief is that there is a relative power struggle between news media publishers and these two tech giants, believing their respective market shares has lead to a "monopolisation" in which news media companies have no choice but to use these platforms to distribute their news in order to attract readers and make a living off ad revenue.
The proposal is set to help benefit smaller media companies, and given their lack of resources, can band together to collectively bargain against Facebook and Google on their proposed terms.
When the code was in the draft process last year, Google had argued they profited $10 million dollars off clicks on ads against possible news-related queries in Australia and in comparison, send "billions of clicks every year" to these publishers. (Mel Silva, Managing Director of Google Australia).
It isn't exactly clear how much revenue Facebook makes from Australian news publishers each year, however, the ACCC estimates that Google collects 47% of all online advertising in Australia and Facebook collects 21% – suggesting it could be even less than what Google makes off ads for Australian publishers each year.
Google had also agreed to pay several Australian news publishers to license their content, as part of their "publisher curated news" for Google News and Discover.
Facebook was also set to pay publishers to license content in their "news" tab as part of rolling out Facebook News Australia, but appears to have postponed this and will now prioritise investments to other countries.
It's important to note that Facebook and Google are not opposed to paying Australian publishers to license their news content for use, but may feel that compulsory compliance with all news media outlets despite their value to the platform and without a clear negotiations process, could set a "dangerous" precedent for the future.
How Will News Publishers Be Affected By This "Ban"?
As we mentioned earlier, there has already been a steep decline in traffic from both non-Australian and Australian sources to Australian news media publishers due to Facebook's ban.
Most media companies have forced to digitise their platform in an attempt to make strides on the increasing lack of reliance on traditional newspapers for news.
News media companies relying on advertising as their sole means of revenue, making use of search platforms like Google and Bing and entering in their search partner networks to make revenue off display ads.
They also make revenue through traditional banner advertising, publishing paid and sponsored articles and by adopting the use of a "paywall" or a paid subscription to grant full access to their content.
In recent years, numerous news websites have moved towards a paid subscription model – a popular example is The Herald Sun, who relies on subscriptions to provide full digital access to all of their news.
News media publishers that have an organic following on Facebook also feel the pinch, given they are now limited in their interaction with their audience.
The Sydney Morning Herald has over 1.1 million followers on Facebook, but their content is currently hidden and they have no ability to post or engage with their readers.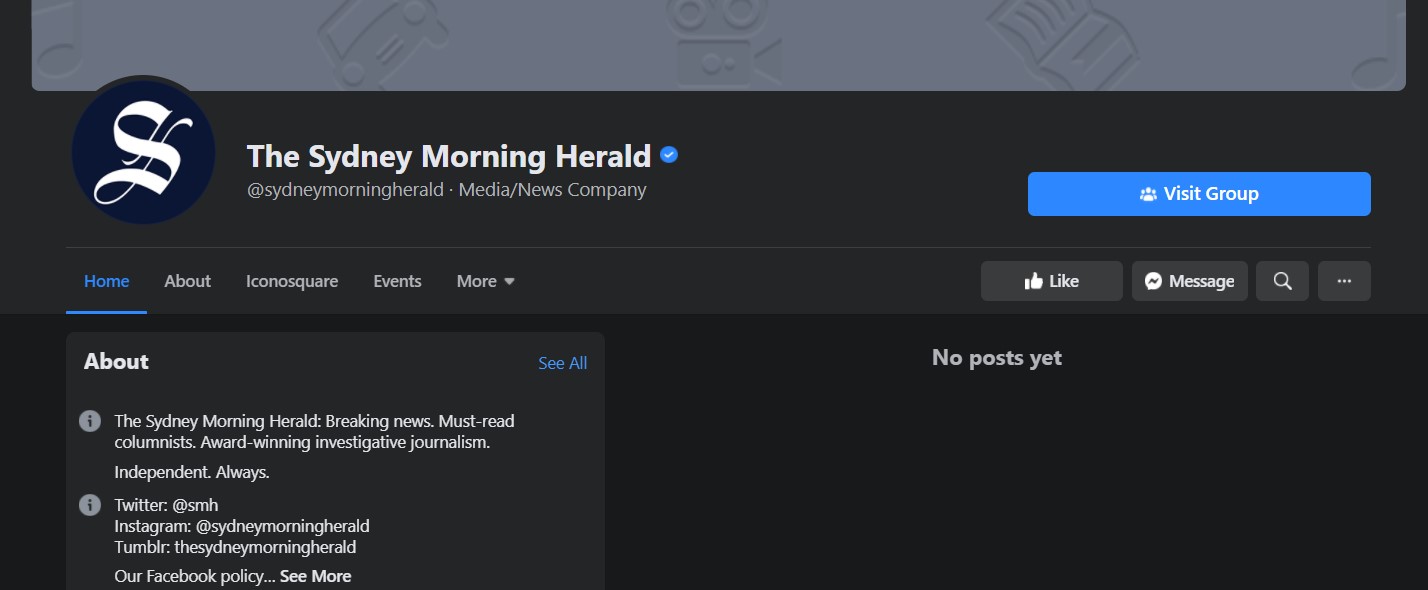 There are still several other news publishers who rely on their platforms being funded by readers, such as Guardian Australia who accept contributions and voluntary donations to help support their independence and journalism.
It means they will need to rely on users to willingly search for their news information directly, or make use of Google or other platforms given that the search giants are in the midst of complying with the proposed code.
There is a common belief that this won't do much to help combat misinformation, which is something Facebook has struggled to get under control and news media publishers argue that removing their content only further exacerbates this problem.
With Facebook effectively shutting down news in Australia, these publishers may feel the squeeze without referral traffic to help increase their advertising revenue, which is reiterating Facebook's point that news media needs Facebook, but Facebook doesn't need news media.
Will Advertising On Facebook Be At Risk?
For many marketers that use Facebook as an advertising platform for their business or clients, this shouldn't bear any impact on the results of their campaigns.
This ban is only set to completely eradicate news media publishers from showing on Facebook, and companies unrelated to this industry shouldn't be affected whatsoever.
If you scroll through Facebook, you should still be seeing carousel, video and photo ads from regular companies without any issues.
The news ban in Australia is less of a factor regarding advertising for normal businesses, as iOS 14 will impact how Facebook receives and uses information from data sources like Facebook pixels.
For those unaware, Apple will begin to require all apps in the App store to show a prompt to users on devices running iOS 14, which will prohibit data collection and sharing unless users opt into tracking themselves.
We suggest reading their article on how iOS 14 may affect ads to get completely up to date.
The basic take away is that if you're an eCommerce site to sell your products or a service-based company who use Facebook for lead generation, your ads won't be affected by this news ban.
Given the intricacies of blocking all news media publishers from showing their content in Australia, there is bound to be a few grey areas if your website teeters along the classification of a "news website" but Facebook is working to ensure that this doesn't happen along the way.
What Happens Now?
It is likely that Facebook, Google and media publishers of all sizes will eventually come to some sort of agreement on payment for the use of content.
When this happens remains to be seen, and for the meanwhile, it's expected that news will remain in the ether for Australian Facebook users and publishers.
Mediation between the Australian Government and Facebook will likely take place given there are concerns of how "news media" is defined in the code, that Facebook can inadvertently block content from reputable government sources which appears to have already happened.
We recommend using a wide range of platforms to keep up to date with the information on this.
Editors Note: We are just an SEO/digital agency, we are not a news media publication. We simply want to shed some light on the situation given there are many Australians who are unaware of the bargaining code and the effect it may have on their ability to use Facebook for whatever purpose they deem necessary.