Want to know the secret sauce to building a blog that ranks for important keywords, generates consistent organic traffic, and naturally curates backlinks?
Enter: evergreen content, a powerful technique to get the most out of your content marketing efforts.
Your content strategy is nothing without evergreen content.
As you'll find out in this Endpoint Digital article, evergreen content is fundamental to any content marketing strategy – it requires no ongoing maintenance and grants a great ROI for your time and effort.
What Is Evergreen Content?
You might have heard the term before, so if you're wondering why it's called "evergreen" content, we'll help you understand the origins of what evergreen marketing is.
Evergreen content focuses on topics readers will always find relevant, regardless of the current season or news cycle.
When the term "evergreen" is used, it's synonymous with "fresh" and "relevant".
This is an adage to evergreen trees, which are a symbol of consistency and relativity, given these trees retain their foliage all-year-round and don't shed their leaves throughout the different seasons.
As the term implies, evergreen content is sustainable and can be used as a powerful resource by all readers even long after publication.
In a user-focused world, making use of evergreen marketing techniques will ensure that your content has a clear focus with a consistent interest from users – a factor that is very important in 2022.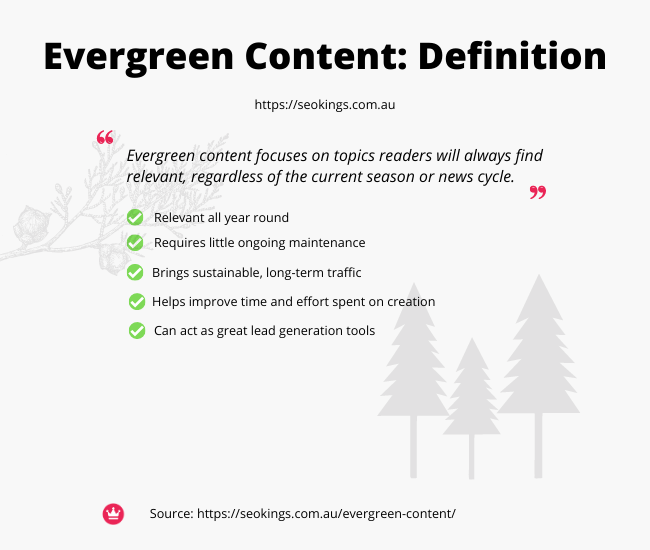 What Makes Content "Evergreen"?
It's not uncommon to be confused about what makes content relevant all-year-round, especially when we live in such times where trends can appear from nowhere, and then fade into obscurity.
It's important to note that focusing on creating evergreen content is only important for topics that generate a consistent amount of interest and demand (search volume).
If you focus your efforts on writing about topics or trends that are seasonal, you're not writing content that is going to be forever relevant.
Sure – there are plenty of times to "cash in" on a new trend or topic, but these provide a short-lived amount of success which isn't the focus of this post.
Topics that focus on the fundamentals and proven practices of a subject are going to be ideal when generating an evergreen content strategy.
Writing a post or an eBook on how to perform bicep curls is an example of evergreen content.
The fundamentals of bicep supination and pronation haven't changed throughout human evolution and that certainly doesn't look to change any time soon, which makes this extremely relevant for years to come.
Any example of "how-to" content falls under the definition of evergreen content, so long as you're providing proven advice then you can expect your content to be engaging to users at all times of the year.
For a more comprehensive understanding, evergreen content typically encompasses the following crucial characteristics:
High Quality And Unique
Evergreen content should not only be relevant, but it should also be of high quality.
This point goes without saying.
In 2022, you need to have an innovative content strategy, where you're writing about topics that haven't been regurgitated 200,000 times over.
I understand that may be a moot viewpoint, so that shouldn't discourage you from writing about topics relevant to your niche.
More so, the point is to have content that is truly levels above your competition.
You need to audit their writing, find holes in their methods and understanding of the topic, discover ways to elaborate on their core message and show your users why you deserve to be heard.
Otherwise, it's easy to get buried amongst the bustling crowd.
If the content does not offer anything of value to the readers and does not attract substantial views, it doesn't bring any value to your business.
Showcases Your Expertise
The concept of expertise in content is extremely important when it comes to evergreen content.
Being able to create a piece of content that is relevant for years to come starts with being a knowledgeable source of information for your readers.
It's easy to distinguish content that was written for the sake of it and content that was written by an expert with a genuine passion for the topic.
This is a great virtue that you should employ in all of your content marketing strategies because content that is written by an expert will always be superior and will always have a better chance to rank well in search engines.
A good example is if you run a healthcare website and want to produce high-quality content that passes the standards of E-A-T – standing for expertise, authoritativeness and trustworthiness.
When running a medical SEO campaign, it's important to note that your content should be created by accredited, healthcare professionals, if you want the best chance to rank for desirable keywords and generate traffic.
Google has shown for a considerable amount of time that the concept of E-A-T is very important for industries that have the ability to impact wellbeing, safety and financial stability.
Timeless And Relevant
Timeless and relevance.
Evergreen content can stand the test of time and should be able to withhold the amount of increasing competition following in your wake.
That's not to say you shouldn't tweak your content from time to time, but the idea is to focus less on seasonal topics and more on content that truly lasts forever.
As marketers, we want to maximise the amount of time we spend on tasks that generate real benefit to the business and cutting corners on your content simply isn't worth it.
Why Evergreen Content Is Important
Just like white label SEO, creating a marketing strategy around evergreen content can provide massive and peerless benefits for your brand.
Below are some of the benefits only evergreen content offers:
Evergreen Content Can Help You Rank High In The Search Engine Results
Google's creed as a search engine behemoth over the past decade, is to provide users with the most relevant results to their search query.
Aside from its long shelf life, evergreen content often ranks high in search engine results pages (SERPS) thanks to its timelessness and help from a few search engine optimisation (SEO) tactics.
There are posts that haven't been updated for years that consistently rank #1 on Google for their respective terms, just because the fundamentals of the topic haven't changed over time.
To maximize your evergreen content potential, you need to do optimal keyword research.
This is also important to ensure your content is optimized accordingly for the keywords you are targeting.
Research also indicates that 35% of traffic goes to the first organic search result, so optimising your content for featured snippets and directly answering questions goes a long way.
Evergreen Content Generates Regular Organic Traffic
If organic search marketing can help improve your site's ranking in the search results, evergreen content is the concept that can help you generate organic traffic consistently.
Established brands also credit some of the leads they generate to high-value articles they have published many months or years ago, as posts that have long-term relevance can act as an attractive lead magnet.
In the era of perishable content, evergreen masterpieces can help your brand stay relevant.
Thanks to the continuous traffic it brings, evergreen content that's optimised for lead generation can continue to effectively bring in leads over time.
To understand how to create content that not only stays relevant but works as an attractive lead magnet, we suggest reading our in-depth post about marketing funnels and following the buyer's journey.
In essence, what makes evergreen content truly valuable is it continues to work for you long after you've hit publish.
There's nothing wrong with focusing on short-lived topics, but without using evergreen content as part of your marketing plan, your content can become irrelevant and outdated quickly.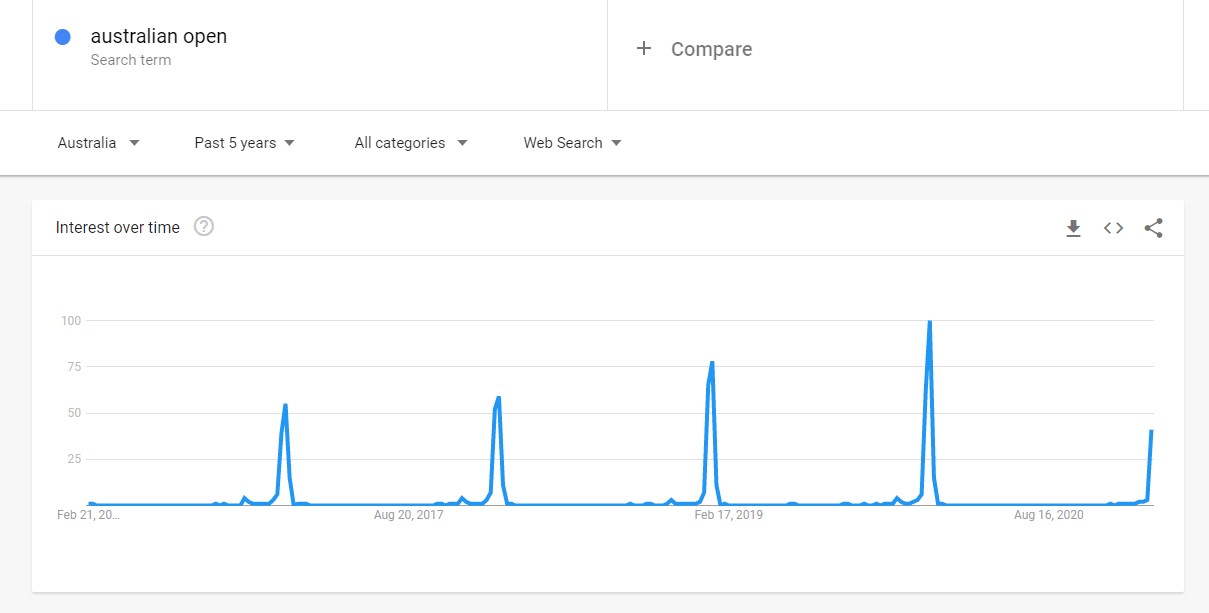 The example above is how you can strategically seize opportunities from trends that are bound to consistently appear at the same time every year.
If you're a news publication, preparing yourself for the Australian Open in January will ensure that you can make the most of the traffic influx.
How To Create Evergreen Content: Top Tips to Keep in Mind
Creating great content isn't rocket science, but we also can't undermine the level of planning, keyword and trends research and competitive analysis that should go into your content marketing strategy.
Balance Timelessness And Sustainability
There are two kinds of content as we discussed – one that remains relevant regardless of changing culture and time and content that loses relevance and significance if not updated to reflect new technology and trends.
Flashing back to our earlier section, classic examples of content that's considered evergreen are "How To" guides.
Keep in mind, this is not a definitive writing guideline for evergreen content.
A blog post on "How to Upload Photos from Your iPhone to Twitter" will only remain evergreen as long as it is updated to reflect new updates in the process.
Connect Evergreen Content To A Pillar Page
While many brands create top-notch evergreen content, they sometimes end up getting buried by new posts.
However, you need to ensure your evergreen posts are prevalent so your new site visitors can quickly view them.
One thing you can do is create a page that will categorize and highlight your evergreen content.
It can also be a great way to increase interlinking on your website.
Internally linking between your pages is a must for great user experience and to also aid search engine crawlers.
Internal links can help crawlers better understand the context behind pages and posts, and which pages are essential for your users.
Update Older Content
As you do regular audits of your blog content, update older posts with new information and repost them.
There is value in doing this for any content pieces where the topic has had significant, new information recently.
Another idea would be to change the date stamp and re-share the content on your social networks. If anything, the date of any post is only relevant if it is a news piece.
To signify that massive changes have been made to the post, you can use structured data such as dateModified to suggest to Google and users that the post has had a significant overhaul since it's original publish date.
Structured data is important, but we won't get into that in this post. Instead, we suggest reading our post on The Next Scoop.
Experiment With Other Types Of Content
Chances are your website or blog already has a lot of evergreen content you have not paid much attention to.
Too many marketers simply create content without realising the far-reaching potential it may have.
Some classic evergreen content includes:
Frequently Asked Questions (FAQs)
Glossaries of Phrases and Terms
If you don't have similar content on your site, those are great ideas you should look into.
It is also important to remember that evergreen content is not limited to written articles alone.
Evergreen content can also come in the form of images, videos, or infographics.
Infographics are visual learning resources that are backlink generating machines, so if you're looking to conduct a link building campaign, compliment your outreach with a great infographic.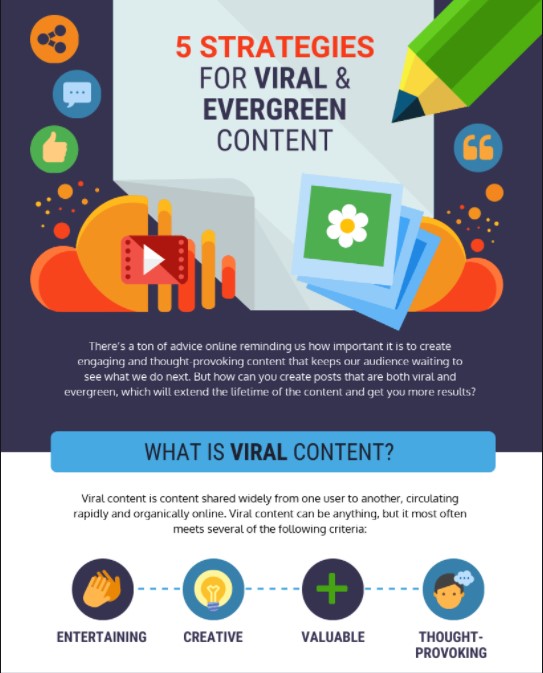 The example is a small snippet from an infographic from Venngage.
Share Your Evergreen Content On Social Media
Just like the sun rising each day, certain components of social media won't change.
Engaging with your followers, paying attention to your audience, and establishing a presence in social media channels are examples of social media marketing done right.
Social media is more than just a great way to showcase your brand's human side. Social media is also a great venue to share and highlight your evergreen content so you can amplify its reach.
To make sure your social campaign is effective, focus on strategy first and on execution second.
Facebook is one of the world's most used platforms and perfect for engaging with your current users.
Also, when it comes to creating evergreen marketing content, creativity can make a world of difference.
Even if your brand is not the most popular, a little imagination and creativity can give people plenty of reasons to share your content on social media.
So don't shy away from experimenting and let your imagination run wild.
Final Thoughts
Taking into account all the amazing benefits evergreen content offers, it's no surprise brands have been banking on them to improve their rankings, generate organic traffic, and build their authority. If you're not writing evergreen content yet, now is the best time to do so!
Editor's Note: This post was written with the assistance of Stephanie from MyBizNiche, a cutting edge website design and organic search marketing company based in Phoenix, Arizona who focus on driving long-term success for businesses.