In order to build a solid foundation of lead generation, you absolutely must have a streamlined marketing process that understands the buyer's journey from start to finish.
The chances are, you've heard the word 'marketing funnel' and 'buyer's journey' before. It's such a common concept to understand, right? You think about something you need or want, and you go out and buy it.
But the reality is, with so many options and so much information available, having the freedom to pick and choose as we please often ends up being our undoing. We're constantly going back and forth over our decision on whether to purchase or not, so it's time to understand how users go from point A, being awareness to point B, the sale.
Let's map out what a marketing funnel is, how it showcases the customer's route from just a thought to a conversion, and how you can potentially drive more sales, increase brand loyalty and improve your brand awareness with ease.
Grab a coffee and sit back because this is a jam-packed blog post that breaks down everything about marketing funnels in-depth.
Here's everything you'll learn in this Endpoint Digital article.
History Lesson: What Is A Marketing Funnel?
The traditional marketing funnel concept was coined by Elias St. Elmo Lewis in 1898. Lewis, an ad agency executive, wanted to easily break down the buying journey into simple, less-complex stages.
Those stages were classed as awareness, interest, desire and action or commonly known as, AIDA.
It was aimed at understanding how consumers first initiated the process of wanting to buy something. Firstly, being aware of a product, secondly, considering that product and lastly, what lead them to ultimately purchase it.
Oddly enough, not much has changed in over 120 years, with most marketing funnels being conceptualised on Lewis' findings but modernised to suit how consumers needs have evolved and changed with the rise of technology.
In 1898, you probably weren't spoiled for choice on the products or services you could buy.
Fast forward to 2021, where every company spends a vast majority of their budget on lead generation tools such as SEO, paid advertising and content creation to make your buying process that much more complicated.
The Traditional Marketing Funnel:
Traditional marketing funnels largely follow the same trend as one another.
They all filter down to classify the intent that consumers have, from the top of the funnel (TOFU) which contains low commercial intent users, middle of the funnel (MOFU) with moderate commercial interests, to the bottom of the funnel (BOFU) with a high level of commercial intent.
The reality is, that there isn't much that changes across each funnel a company may use, with some minor tweaks here or there.
When it comes to marketing funnels, the important thing to note is that there is no definitive strategy that is the be-all, end-all, lead-generating machine.
Marketers have constantly updated the way we understand elements of the buyer's journey, given that users needs are no longer one-dimensional and as such, need to accommodate for their constant consideration on buying products and services.
Perhaps one of the most important aspects marketers have learnt is integral to their funnel, is the concept of loyalty and retention.
Retaining customers has never been easier than it is today, but loyalty and new customer consideration are not easy tasks to achieve, given the wide reach that review websites have.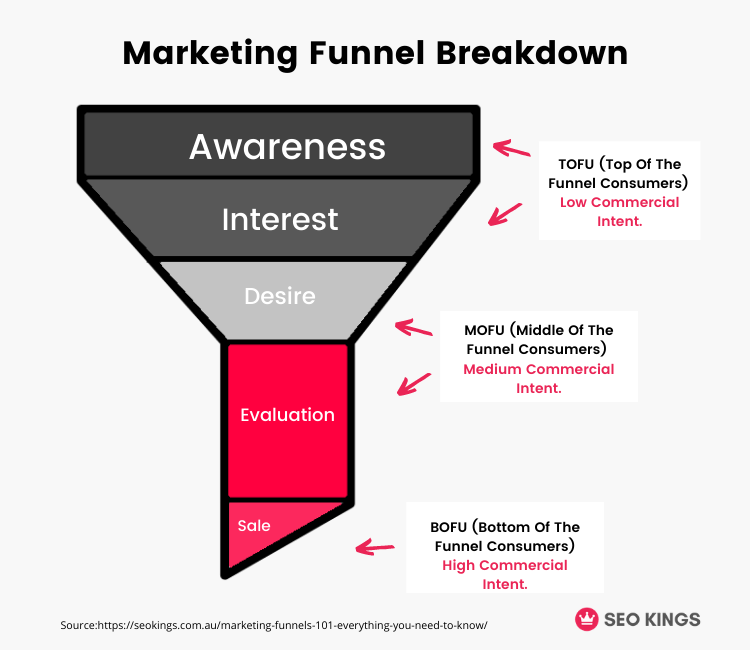 Concepts Of The Traditional Marketing Funnel:
Let's break down each of those strategies that a traditional funnel may use given they work together to understand the buyer's journey in a simplistic way.
#1. Awareness:
Awareness is the top of the funnel concept, given that this audience comprises of people who have little to no awareness or understanding of your brand and your products/services.
The people that lie here are people with no commercial intent whatsoever. They haven't heard of your business and they have no desire to purchase from you. This is the part of the concept where you need to foster demand through pull marketing concepts that will help you understand your audience better.
Arguably, every brand's toughest concept. How do you get yourself heard amongst a bustling crowd in this digital age?
#2. Interest
Interest fails in line with desire in some aspects, but the feeling may not be as strong. Some of us may enjoy skiing, but that doesn't mean we're looking to actively buy ski boots given its a seasonal activity.
Interest is gauged by demand and relevance. If your audience is interested in your offerings, then you need to leverage this interest into a favourable position for the consumer by letting know of your USP (unique selling points) and what separates you from the 100 other choices they have for the same product.
The important thing to note is that 'interest' isn't a black and white concept. Realistically, someone can be interested in your brand just by simply reading a quarter of your blog post they came across, skimmed past your social media ad and perhaps thought 'that's cool'. Any chance you get to be the centre of attention for the consumer is great, even if it doesn't generate real conversions at that point.
Having an 'interest' strategy helps filter out those with low commercial intent, given the concept behind marketing funnels is to build your brand awareness and increase your return-on-investment (ROI).
#3. Desire
Now things are heating up.
As we head into 'desire', we understand that the commercial intent is rising.
They might have seen your website, checked out your products and services, but aren't 100% ready to commit, just yet.
But the important thing is that they're actively desiring your product. Just because they didn't purchase anything after sitting on your website for 20 minutes means nothing in today's complicated buyer's journey.
When there is a desire for your product/service, it generally means that you're a key solution to solving their problem. Most buying procrastination can be a combination of many things, but as we mentioned earlier, having so many choices only further convolutes your ability to decide where to buy from.
#4. Evaluation
Evaluation is almost at the finish line and you have the 3 other above strategies to thank for that. You were able to be a memorable brand, gauge their interest for your business, foster demand for your product and now they are going to end up finalising their tiring journey to become a buying customer.
You are ultimately their #1 choice for this product whenever they're ready to pull the trigger, but perhaps lack of funds, cart abandonment or a real-life scenario has lead them to put off buying for the meantime.
Don't fret, their commercial intent is high and you're likely to see these customers convert.
#5. Sale/Conversion
The most desired position for any business is when their users become paying consumers. It's a win-win scenario for both your business and the customer.
Sales lead to revenue and this means you can keep your doors open and continue providing excellent service.
Keep in mind though, conversions can be actions you deem valuable to your business without customers buying anything.
Service-based businesses (like us for example) don't actively sell any products through a conventional shopping cart scenario, so we rely on form submissions, calls, customers replying to outreach emails, etc.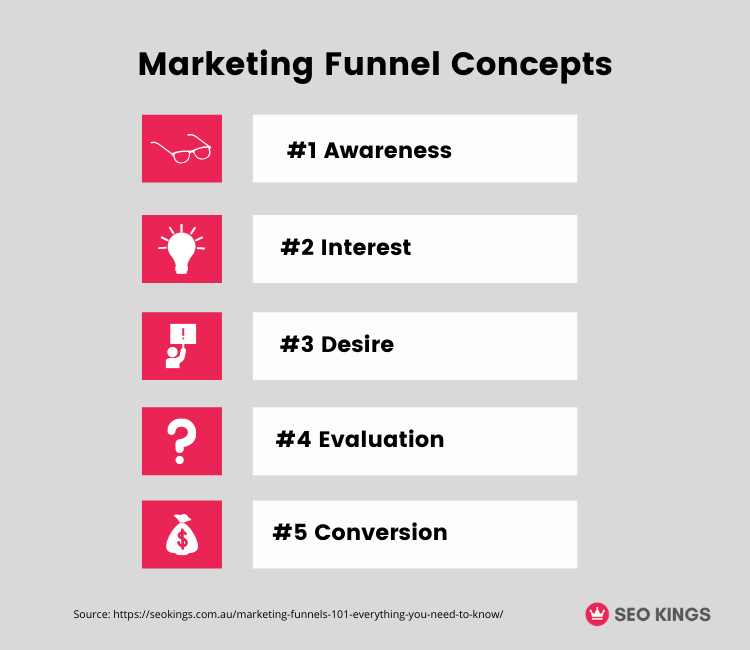 Why Traditional Funnels Don't Make Sense In 2021:
We're not saying that traditional funnels are useless, but the one-dimensional top-to-bottom layout isn't necessarily relevant today.
Buyers today go back from one stage of the funnel to another, sort of like a never-ending loop that can't be explained just by a simple downwards trend.
A real-life scenario that explains this funnel loop:
Let's say our subject is George, a standard average joe.
George is on his way home from working all day, and throughout his drive, he notices a terrible rumbling from his bonnet which is an annoying reoccurrence. (Awareness)
He manages to make it home safely and as he pulls up and parks his car, he pops the hood to check out what's going on.
Turns out his engine may be on its last legs and finally needs to be replaced. (Awareness or problem)
Unsure of what's causing the issue, George heads inside grabs his laptop and searches for 'car engine keeps rumbling' to see if he can fix it himself, without needing the assistance of a mechanic. (Consideration)
George gets up an article from a popular website about potential reasons why his car might be rumbling, including a section on replacing them. (Interest)
George decides it's not worth his time or effort to tinker around with his car and decides that a professional should look at it. (Awareness)
George then conducts a Google search for 'best car mechanics near me' and gets a lot of local results, so he decides to check out their reviews to see which mechanic may be the best fit (Consideration)
From here, George gives the best candidate a call and they agree on a time and price for George to bring the car into the shop to be checked out. (Purchase/Sale)
A week later, George picks up his car and it's working perfectly. George arrives at work the next day and has nothing but good things to say about his mechanic, who was fairly priced and professional. (Loyalty)
Happy with his service, George then gives the mechanic a great, 5-star review and leaves a comment that he'd make them his #1 choice for mechanics in the area. (Retention & Loyalty).
When it's explained like this, you understand how the modern buyer's needs have evolved and we don't work our way down a simplistic funnel, we take several routes to eventually get to the point where we result in getting a product or service.
Understanding Digital Marketing Funnels:
We imagine most of you reading this are owners of bustling eCommerce stores or monetised blogs, which makes this section all the more relevant given we are a digital agency.
As we mentioned earlier, marketing funnels don't necessarily differ across their use. There are generally only a few, minor tweaks to ensure that your funnel is appropriate for your business model and your target audience.
Digital marketing funnels are made easy because of the wide-reaching facets of the internet. There is so much potential with a proper digital marketing funnel in place, given much of the focus on generating leads revolves content.
A content strategy can come in many forms and increasing your brand awareness always comes down to good, user-focused content marketing.
Most digital marketers still use the AIDA concept with their concepts adapted to use modern marketing tactics like SEO, paid ads, email marketing, manual outreach, etc.
In a traditional marketing funnel, the work is done after the sale. But this is where this funnel is outdated and needs to be modernised. The need to grow and scale your business is not only smart but is vital in today's competitive landscape.
Most traditional marketing funnels forget about this important tail-end of the conversion, being retention and loyalty.
Brands that can continue to provide the best products and services have an easy time retaining their existing customers. Being able to curate reviews from trusted suppliers such as TrustPilot, Google Reviews and places like Facebook are all vastly important, given the increasing trust people have on product reviews. (link or photo)
How To Create A Simple Digital Marketing Funnel:
In all honesty, most digital marketing funnels are too overcomplicated when they just need a refined and simplistic approach to generating and nurturing leads.
The traditional marketing funnel is an easy concept to understand because there isn't too much 'fluff'. It goes from educating the customer on your services, piquing their interest, having them consider your product, and then ultimately converting when it suits them.
That's as simple as it should be, given most of the digital marketing tactics such as SEO and paid advertising speak for themselves.
They are the most powerful tools to have in your digital marketing arsenal and if you're using them correctly, undertake a lot of the heavy lifting for you.
Before creating a funnel, it's important to note the components that make up an effective digital marketing funnel:
Understanding Your Audience.
Ways To Bring In Your Audience
Funneling-In Your Target Market With A Sales Funnel
Those three steps all tie in with each other perfectly. You firstly need to understand who your audience is, how to bring them in and how their intent fits within your sales funnel.
If we're going to create a digital marketing funnel, then its foundation should be based on a traditional marketing funnel but optimised for today's consumers.
By the end of it, you'll see that funnels have changed over time and your digital marketing funnel might be unrecognisable to a traditional funnel.
#1. Exposure: Lead Generation (Top Of The Funnel Consumers)
Exposure is just a fancy word for awareness. It holds especially true if you're trying to grow your online presence.
Getting your brand out there is the first step to setting yourself up for long-lasting success. If you can generate exposure for your business, then you have a better ability to discover who is interested in your business and who isn't.
Keep in mind these principles are largely based on the traditional marketing funnel – these users have a low commercial intent now, but it's up to you to foster demand for your products and services. It is very similar to using pull marketing techniques.
Exposure is a vital way to gather data. Ask yourself what your target audience is looking for – how do you help them solve their dilemma?
How do you gather their attention? What content should you write to pique their interest, and how are they searching for it? Are they using forums, Google search, social media or other forms of searching?
Tools to use:
Social Media Advertising
Social media advertising is a great, targeted strategy designed to promote brand awareness given these platforms have a wide reach. Their organic reach is quite low, so it is best to stick to paid advertising.
Blog Posts/Guest Posting
These are always good for obvious reasons. You can write about anything industry-related (even if it doesn't relate to your services) and you may generate some traffic from organic search or referrals. There's no guarantee these visitors will equate to anything more than a simple reader, but if your content is good, they're more likely to keep reading or come back.
YouTube/Video Marketing
YouTube is a huge platform with videos on almost every topic you could imagine. Admittedly, we aren't entirely sure how their algorithm works, but people use YouTube to learn in interactive and visual ways, so creating video content isn't a bad idea by any means.
#2. Learn: Lead Generation (Top Of The Funnel Consumers)
Now that you're aware of how to best communicate with your audience on their needs and wants, you're a real contender for them.
You've caught their attention and now there is a genuine interest in your brand. The next step is to work on actively meeting their demands.
For example, let's say you have a business Facebook page for your clothing brand and you've just shared your latest summer drops for your customers to take a look at.
Then you find that the comments are asking things such as 'when does X item come back?', you may find that there is a trend or demand for these products.
When there is a demand for a service you can provide (but currently don't), then you have every ability to help these customers enter further down your funnel.
#3. Assess: Lead Nurturing (Middle Of The Funnel Consumers)
We have cut out the stage of desire or 'want', because generally if you're able to directly answer the difficult questions your potential consumers face, you eliminate the lengthy process of turning them into a paying customer.
If your content isn't captivating your audience by now, then it's totally fine to add another stage of your funnel that helps refine your strategy.
If your brand is in a niche industry, then you have less competition and fewer choices for your consumer to consider.
The idea remains consistent. You must be able to show your prospects that you understand their situation, how you can help alleviate their problems and what your brand excels at over competitors.
Tools to use:
Broad Google Ads Campaigns
We say this lightly because there are so many different ways you can structure a Google Ads account and how you show up in searches for potential buyers.
Conducting broad match campaigns with a few negative keywords such as 'free', 'discounted', etc, help eliminate low-commercial or irrelevant customers, but won't cause your ad spend to go haywire.
Showcase Your Reviews
Reviews are a huge trust signal that consumers love. In fact, they love them so much that 84% of users trust online reviews as much as personal recommendations.
If you're an expert in your field, prove it through positive reviews. Show positive reviews from your Google My Business listing, Facebook, TrustPilot – wherever your positive reviews may lie, they must be shown.

Flaunt Case Studies
Again, another very good trust signal. It instils expertise and trustworthiness in your business given it has a proven track record of being able to provide results (if you're a service-based business) or high-quality products that serve their purpose well.
If you have relevant case studies, they are a great way to help shift uncertain customers into bottom of the funnel customers.
#4. Conversion: (Sale) (Bottom Of The Funnel Customers)
All of the lead generation hard work has paid off and these customers have taken valuable action for your business.
Remember, it doesn't necessarily need to equate to a dollar sale. If you have landing pages, sign-up forms, enquiry forms, newsletters, eBooks, product guides, downloadable templates then they may all qualify as a valuable conversion for your business.
It all depends on your business structure and what you offer, but ultimately, the hard work shouldn't end here.
Pay-Per-Click (PPC) is a very powerful tool to use for bottom of the funnel consumers, given they show the highest commercial intent amongst all of the users in your funnel.
There is no other advertising platform that allows you to directly bid on keywords and tell Google 'these are the search terms I want to show up for'. If you're a company that sells office chairs, you have all the tools at your disposal to target high commercial intent customers and that is a very unrivalled aspect of PPC that is overlooked when it's used as a lead generation tool.
This brings us to the most important point of retention and loyalty which is often overlooked in traditional marketing funnels.
Things you may consider a conversion:
eBooks
Free learning material is invaluable, especially if it's from a quality source. People downloading your writing content gives them a snippet of the information you can provide and your expertise will often lead to solving problems they may have in the future.

Free Trials
Allowing users to test your services before you buy them should be considered a conversion itself because you managed to get them this far. 7 day free trials will let them get an understanding of the platform and generally by then, they may even become reliant on the software, edging them into a subscription.
Webinar Sign-ups
Much like eBooks, webinars are a great way to provide your expertise on topics relevant to the consumer. Webinars are also a powerful way to push people into gated courses as if they enjoyed your free webinar, there's a high chance they'll enjoy learning from you further.
Landing page sign-up forms
If you have a sign-up form that helps you get in touch with a user, this enables you to consult with them and have them air any grievances or problems they may be having.
More often than not, a positive conversation goes a long way in steering them in the right direction.
#5. Retention
It doesn't seem viable to give up on consumers once they convert and you'd be right.
The interesting thing about this point is that you need to take an active approach to retain your customers.
Sure, your product might be fantastic and a good percentage of your customers will buy it again without your intervention, but it's a wise business decision to invest your interest in people who have proven beyond doubt, that they are interested in what you offer.
Excellent Ways To Retain Customers:
Offer Discount Codes
Create some sort of incentives program. Everyone loves getting things for a discounted price, even if it's for 10-20%.
These are a great way to bring customers back without much financial overhead or effort.
Offer Priority Support Or Services
If you're an eCommerce store, consider giving customers free shipping/priority shipping off their next order.
If you're a service provider, give them better access to priority support or priority services. Not only does this help them understand more about your business, but it also gives them a taste of the further services you can offer.
Send Regular Updates On New Products
We'll only say this once – don't overdo it. If you sent them an email, you should be using a CRM that tracks open rate, so don't send them an SMS with the exact same update otherwise you can burn bridges fast.
If they have signed up to your newsletter, send them the most relevant deals and new products you think they'll be the most interested in.
#6. Loyalty (Starting The Funnel Loop All Over Again)
Loyalty is a valuable virtue, especially for your customers.
It ties in with retention well, as if you're able to help retain customers, they're more likely to be valuable and loyal to your brand for the future.
But the most interesting part of brand loyalty is how it kickstarts the entire marketing funnel into action, but for new consumers.
What we mean by this, is if you're able to showcase that you value your consumers, their loyalty can help influence your ability to bring in a range of new customers.
Customers who consistently have a positive experience with your brand are more likely to share their experience with those close to them and online, which can have far-reaching effects.
How loyalty affects your future lead generation:
Reviews are heard far and loud.
Negative reviews are a business nightmare. It's hard to respond to them effectively by admitting fault and can scare away potential consumers if you have a low aggregate rating score.
If your customers have great experiences with your brand over a long period, they'll feel compelled to leave positive reviews that can circulate and can be easily found by potential suitors.
Word of mouth still matters in 2021
Despite this booming digital age, word still travels fast. It may not have the same compelling effect that bad reviews do on your business, but every potential customer should matter.
Burning bridges with any consumer is a tough pill to swallow, but conversely, positive interactions with long-time customers lead to further referrals and a great chance to kickstart your digital marketing funnel all over again.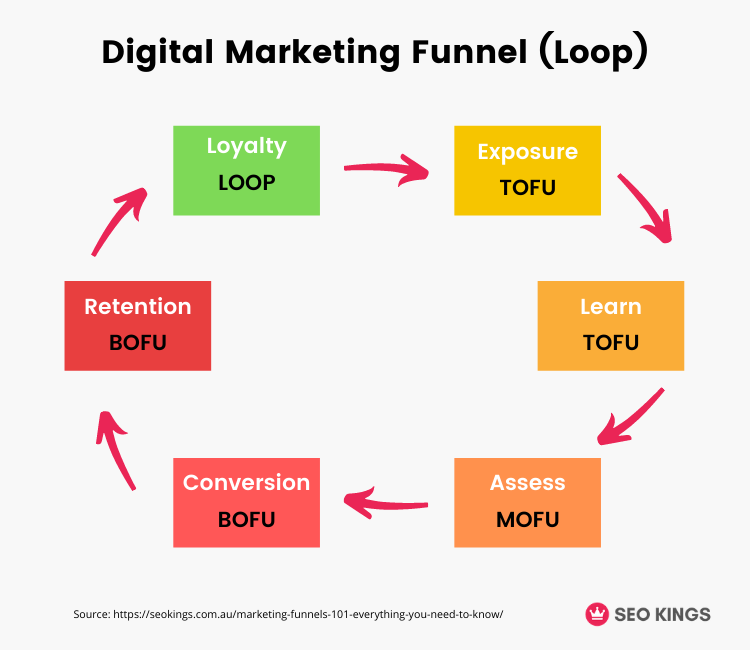 Not much of a funnel, so you can see how it's no longer just a one-dimensional strategy. It's a multi-faceted loop that requires each stage to work in conjunction with each other, repeating the cycle to ensure a you're meeting the needs of the consumer throughout the entire buyer's journey.
Other Funnel Jargon You Might've Heard Of:
There are a few other concepts that marketers include in their pieces that mention marketing funnels. Some of them are no more than buzzwords synonymous with common marketing funnel terms, but these may be:
Lead Magnets:
These are high-value offers that act as an entry point for your funnel and the prospect generally only needs to provide their name and email address to take part in your offer.
These are things such as webinars, quizzes, free trials, discount codes, etc.
Marketing Automation:
Automation is already working in overdrive without you knowing. If you have an SEO campaign underway, have a downloadable eBook, are using a retargeting ads campaign, or a robust email strategy that delivers newsletters daily then you're making use of automation.
There are a ton of tools such as Hubspot, Buzzstream, Pardot, etc. that you can use to automate and streamline your working process.
Free Marketing Funnel Templates
If you're wanting to create your own marketing funnels, there are a wide range of helpful websites to help you pick a suitable framework for you to work off based on your business.
SlideGeeks offer a wide range of digital marketing funnels, including paid search ones, customer behaviour funnels, customer segmentation funnels – the list goes on.
There is guaranteed to be a lot of valuable, free templates amongst their range that can help you put a lead generation strategy into effect.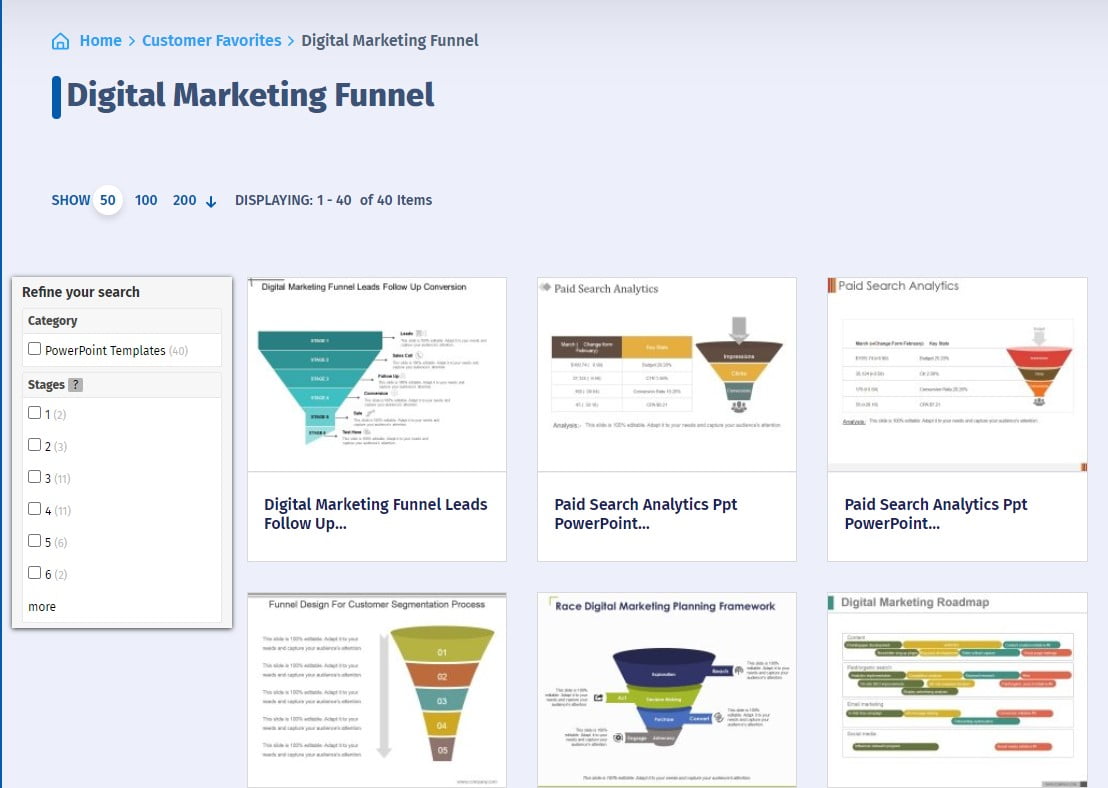 Conclusion
If you made it this far, you should know everything there is to know about marketing funnels and how to create a digital marketing funnel to help refine your lead generation techniques.
You should know the best strategies on fostering demand for your product, improving brand awareness, helping solve your potential consumer's problems and what it takes for them to ultimately become a paying customer.
If you're looking for a personalised marketing strategy or SEO campaign guaranteed to help blow competitors out of the water, feel free to get in touch.