Google has penned an open letter to its Australian users that advises them the way they use Google Search could be adversely affected if the new proposed regulation by the Australian Competition and Consumer Commission (ACCC) takes effect.
In this open letter to Australians, Mel Silva, Managing Director on behalf of Google Australia, outlines how news media businesses may be set to receive 'special treatment' from Google in the wake of the ACCC pushing a mandatory code of conduct ordering Google to 'pay for content'.
It appears as though Google is mass-rallying their Australian users to bite back against the ACCC's code of conduct to ensure their most popular search engine remains the way it is.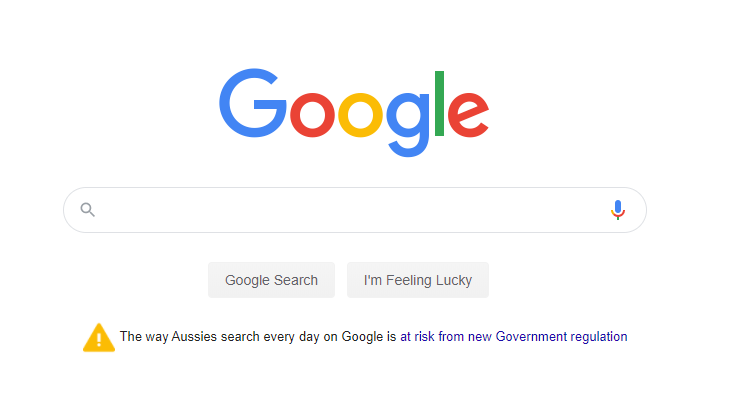 The ACCC's battle with tech giants Google (and particularly Facebook) isn't necessarily new and this information doesn't come as a surprise given the events that have occurred over the last year.
In July 2019, the ACCC implemented a new divisional branch that oversees where digital platforms operate, but more specifically, investigating and monitoring how Google and Facebook operate.
Unsurprisingly, several months later, the ACCC initiated several investigations on the tech giant with (ACCC) chair Rod Sims citing "Our law does not, however, allow companies to use their dominant position to handicap their rivals."
According to Rod Sims, the market power Google and Facebook hold as a means of news distribution means that many businesses rely on their services to reach consumers effectively.
"Such businesses are potentially exposed, given the ability and incentive of digital platforms to favour either their own related businesses or businesses with which they have a commercial relationship," he said. "The lack of transparency in Google's and Facebook's operations compounds this risk."
Ultimately, the new ACCC code of conduct would be looking to provide news media businesses with additional resources to inflate their rankings and provide them with more transparency on how Google's algorithm works.
Before we touch on how these new regulations could affect Google search in Australia, it's important to understand what this new bargaining code introduced by the ACC sets out to achieve.
What Is The Draft News Media Bargaining Code? (ACCC)
On the 20th of April 2020, the Australian Government requested that the ACCC develop a mandatory code of conduct to address the fundamental 'bargaining power imbalance' set between news media businesses and digital platforms in Australia.
The code currently only covers digital tech giants Google and Facebook, but other companies may be added if it's determined they pose a risk to how news media operates on digital platforms in the future.
What Does The Code Set Out To Achieve?
We encourage you to read the Q&A regarding the bargaining code, but the draft code ultimately seeks to provide news media businesses (including smaller, regional and rural news media businesses) to individually or collectively bargain against major digital platforms like Google in order to receive better treatment for the inclusion of their news on Google's platform.
The code also set a minimum standard of expectations that Google provide:
Be given 28 days notice of any algorithmic changes that are likely to affect referral traffic to news


Algorithm changes designed to affect the ranking of news behind paywalls


Any substantial changes to the display and presentation of news and advertising directly associated with news.


Publish proposals to appropriately recognise original news on their services


Provide information about how and when Google and Facebook make available user data collected through users' interactions with news content

The ACCC released a version of the draft code for public consultation on July 31st, with consultation on the draft to conclude on August 28th.
Google's Perspective
Google's open letter details their concerns with the draft code and what it might mean for user's data, how that data is used and the quality of search results they can provide.
They describe that the current proposal set forth puts 'unrealistic expectations' on Google and 'is set up to give big media companies special treatment '
There has also been talk, mainly from former treasurer Peter Costello, that tech giants Google should be forced to pay $600 million a year (apologies for the paywall article) distributed across Australian news media businesses for the "content they profit off".
Conversely, Melanie Silva has expressed that annual profit generated by Australian news outlets on their platform only equates to roughly $10 million per year, saying "Google last year generated approximately $10 million in revenue—not profit—from clicks on ads against possible news-related queries in Australia."
She also mentioned that Google works closely with Australian news media outlets and provide them with "billions of free clicks every year".
Despite this, the mandate could result in Google and Facebook being forced by the ACCC to pay publishers including Rupert Murdoch's News Corp, and Nine Entertainment.
Update: ACCC Responds To The Open Letter (August 17th)
In the wake of the letter spreading like wildfire, the ACCC have responded to the open letter, labelling it as 'misinformed'.
The response to the open letter just summarises the entire gist of what the code of conduct sets out to achieve, which is to 'address a significant bargaining power between Australian news media businesses and Google'.
The ACCC also claim that Google's data-sharing concern with news media outlets is bogus, explaining that 'Google will not be required to share any additional user data with Australian news businesses unless it chooses to do so.'
The consultation process is ongoing and looks set to continue on this path of battle until one prevails.
How Could This Code Affect How Google Search Works?
The minimum standards set by the draft code will impede on how Google search works for a few, specific reasons.
From an SEO standpoint, the biggest concern is news media outlets being given inside information on algorithmic changes 28 days before they are rolled out.
As an SEO, working with Google's algorithm is volatile and changes are generally rolled out without much public announcement.
Given there is no indication on how to prepare for Google algorithm changes, it allows for an even playing field and rewards those who follow Google's golden rule of user-focused content.
In 2014, writing for the search engine would've satisfied Google enough to provide you with great rankings but times have changed and users needs have evolved.
When you reveal the secrets of an algorithmic ranking system, you run into a few potentially disastrous scenarios.
News media businesses may cater their content towards the needs or requirements of the new algorithm roll-out for more favourable rankings, rather than what the user requires.


A decrease in quality content will deprive users of a desirable service


A lack of innovation and competition may lead to less user-focused content, reduced ad revenue and may ultimately decrease the amount of traffic publishers receive

News media businesses already dominate most news-related searches under the 'top stories' snippet, so it's less about 'awareness' and more about money in the grand scheme of things.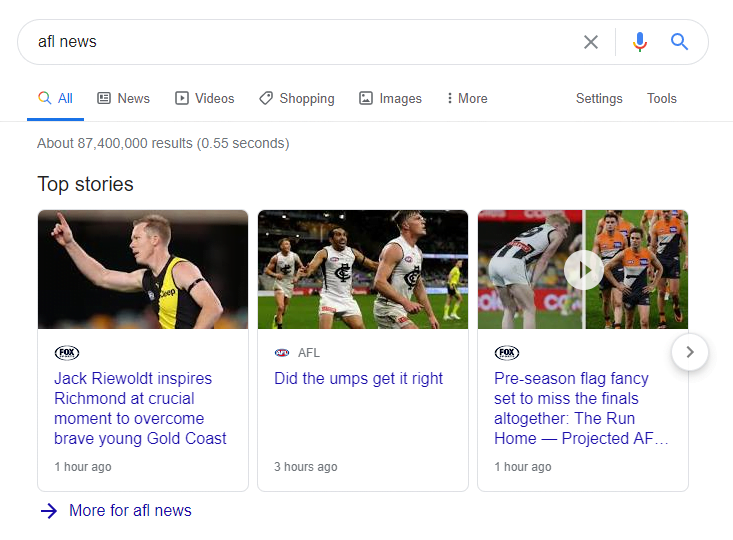 Giving inside information about how their algorithm works may just force news media outlets to write content that favours those requirements instead of users – which would go against everything Google has set out to achieve in the last decade.
Who is there to provide quality control and fairness for these outlets and the content they publish? There would certainly be a grey area over the SEO practices used if Google were forced to provide them with artificially-inflated first page rankings.
There has only ever been one other time in history where Google has been pressured to hand over algorithm secrets after Foundem filed a lawsuit against Google in 2012.
The case is still ongoing but Foundem has requested to bring in SEO expert, Phillip Kloeckner to interpret the details behind Google's algorithm which Google may have to if they fail to win – it appears unlikely but stranger things have happened.
Concerns For Users
SEO's would feel the pinch of this mandate but no more so than users.
I won't sit here and applaud Google or Facebook for how they may interact with and use customer data but there is an equal concern that if approved, Google would be forced to provide news media businesses with how the platform collects user data.
This refers to things such as how long users spend reading an article, how many articles they read in a certain time-frame and other user-oriented metrics.
Given the code is in draft stage, it's unclear how these news media businesses would store or use this customer data.
Aside from privacy or transparency concerns as of right now, the other main focus would be how users conduct searches.
We won't touch on this too much given that we provided some insight earlier, but inflated rankings may lead to less than desirable or relevant content coming from user searches.
How Does This Get Resolved?
The ACCC released an 'options' paper that could determine the way a mandatory code of conduct between Facebook, Google and local media companies would operate.
The options paper contains several routes in which the mediation would occur.
Allowing companies to negotiate individually with tech giants like Google, and referring to the code of conduct as a basis for arbitration.


Proposing a collective bargaining agreement which would allow media companies (who meet a certain criteria listed on the draft's bargaining page) to work together on a set price for their content, in attempt to receive better commercial terms.


A collective boycott if commercial negotiations fail


A collective licensing agreement (fee arrangement) would include a fixed fee for the use of their news content.
In Google's open letter, Melanie Silva mentions their offer to pay more for licensing content and this would be the most likely option with all things considered.
If Google and the news media businesses should reach an impasse on after a 3 month-long negotiation, it will be referred to an independent arbitrator to determine which parties offer is most fair within 45 business days.
What Can I Do?
If you feel compelled to speak against the mandatory code of conduct, it is encouraged to share your opinion on the news media bargaining code through the ACCC's official site.
Written submissions are due by 5 pm on 28 August 2020 and can be sent to [email protected].
We will need to monitor the outcome of the mediation process over the next few weeks to see if or at all, how Google Search will be impacted in Australia.