Every business owner understands the importance of marketing your brand to reach the most appropriate audience, but how do you do it effectively?
There is a wide range of different answers on the best ways to market your business, and it is natural to be skeptical of an industry that has long gone unregulated.
Hopefully, we can help push you in the right direction on whether hiring a digital marketing agency is the right move for you and your business goals.
You might've asked yourself already, 'Why should I hire a digital marketing agency? Is it that difficult to learn by myself?'
The reality is that digital marketing isn't one-dimensional. A proper, full-suite digital marketing campaign consists of SEO, paid advertising, email marketing and social media marketing.
Relying on one marketing channel is putting all of your eggs in one basket and potentially limiting your growth.
Trying to master and understand all of these services by yourself is next to impossible given your limited time, so shopping around for an expert might be an excellent choice for you.
In 2021, the internet is the world's biggest marketplace, so you'll really want to nail down a good digital marketing plan and a reputable agency helps you do exactly that.
By effectively managing your budget and understanding your business goals, a digital agency will set out to achieve building qualified leads that translate to a steady flow of sales.
In this Endpoint Digital article, we'll discuss the many reasons on why you should consider hiring a digital marketing agency to help propel your business forward in 2021.
Run your Business Instead.
It's one thing to understand the different services that consist under the digital marketing "umbrella", and then it's another thing in putting these campaigns into action, continually monitoring their performance, making adjustments to improve your targeting and getting a wicked return-on-investment (ROI).
As a digital marketing agency owner, I can vouch first-hand that you don't learn how to perform SEO or paid advertising campaigns overnight.
They require constant testing, updating, analysing data to make improvements or completely revamping the entire project to take it in another direction.
Much of digital marketing is constant evaluation, tinkering and understanding what your target market wants to achieve the best results.
The unfortunate thing about this, is that success doesn't happen overnight.
The first step to getting a great marketing strategy down pat is understanding the marketing funnel (or the buyer's journey).
There are so many different elements that go into turning your brand into a digital powerhouse and most people don't have the time, resources or effort to truly pull it off.
If you had a broken sink, you wouldn't get out a wrench and some duct tape to fix it yourself – you'd leave it up to the experts.
Sure, some people are capable of fixing it themselves, but for the vast majority, they don't have the time, resources or expertise to do so.
There's nothing wrong with hiring experts to do a job you can't do yourself. Hiring a digital marketing agency shouldn't be a "why" anymore, it should be "who is the best for the job?"
Reputable agencies can help you construct an actionable strategy that sets out guidelines and provides an overview of what they set out to achieve within a particular timeframe.
Allowing you to get back to running your business is the key here.
Experts With All The Tools Necessary
Sometimes its best to leave it to the experts. If your PC breaks down and you've got no idea where to start, it's easier to call a repair place rather than poke around and risk doing more damage.
As we said earlier – it's normal to be skeptical. There are many SEOs out there pushing false "SEO guarantees", promising to rank your website on Google in 90 days.
An excellent digital marketing agency will always be transparent and upfront with their expectations.
Paid advertising campaigns tend to get results faster given there is more data available, as your budget and optimisation largely determine your success. On the other hand, SEO campaigns can take anywhere from 3-12 months to show positive results.
A regular person won't have the level of resources that a digital marketing agency has and this can limit the amount of data you can use to help optimise your campaigns.
Here at Endpoint Digital, we believe in taking a data-driven approach. 
Using SEO tools like Ahrefs, SEMRush and Screaming Frog allow agencies to audit competitors, understand the competitiveness of your niche and discover errors with your website that might be holding you back.
These tools are also quite expensive to license, but the possibilities are endless, so hiring a marketing agency that has all of the best, industry-leading tools in their arsenal means that your digital strategy is safe in their hands.
Ahrefs is one of most commonly used SEO tools to help audit competitors, keyword volume and difficulty as well as site errors.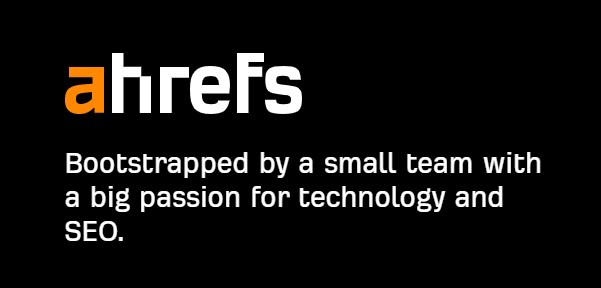 You Save More Money In The Long Term
Investing your effort into learning digital marketing doesn't lose you money per se, but it loses you time.
"Lost time is never found again" – Benjamin Franklin
Quoted by one of the world's most famous polymaths back in 1700, it's amazing how true it still is to this day.
Time is scarce and needs to be delegated efficiently, especially when running a business.
If you aren't spending time running your business, you are losing out on building a relationship with your customers.
The goal of a digital marketing agency is to undertake the heavy lifting for you, so you can get back to do doing what you do best.
That heavy lifting doesn't need to come with a hefty price tag, but it helps to know what you're paying for.
According to a study undertaken by Ahrefs, the average amount to keep an SEO agency on retainer ranges from $1,000 to $2,000 per month, equating to 75.77% of the average monthly cost from all respondents.
On the contrary, hiring an in-house SEO or SEM professional can average between $60,000-$80,000 a year.
The unique thing about having an in-house professional is that they solely work on the advertising campaigns of your own business, rather than tens or hundreds of clients.
Partnering with a digital agency is a little more flexible, given there is a wide range of capable hands in different positions.
For SEO campaigns, you may have dedicated link-builders who conduct outreach, on-page SEO specialists and copywriters designed to give you a fully-rounded campaign for the best results.
Better Chance To Bring In Quality Results
One of the advantages of digital marketing is that everything is measurable, so you know exactly what is working and what isn't.
It also allows room for making adjustments or tweaking areas that might be struggling – this ensures your money isn't being invested into services that serve no benefit to your business goals.
We aren't saying you can't succeed by doing it all on your own, but being able to make use of the world's best advertising platforms like Google, Facebook and Instagram is a time-consuming effort which may be better left to an agency with plenty of eyes and resources.
In addition to this, reading and analyzing the data is another hurdle you'll have to jump. If you can't interpret what you're reading, you won't be able to proactively make optimisation changes to benefit your campaigns.
Agencies can determine your KPI's (Key Performance Indicators) and figure out how well your campaigns are doing relative to the objectives you set.
The whole purpose of a marketing strategy is to bring a return on your investment.
A good digital marketing agency can also explain the results (usually monthly/quarterly) from these tools in layman's terms for you and explain what the next step is.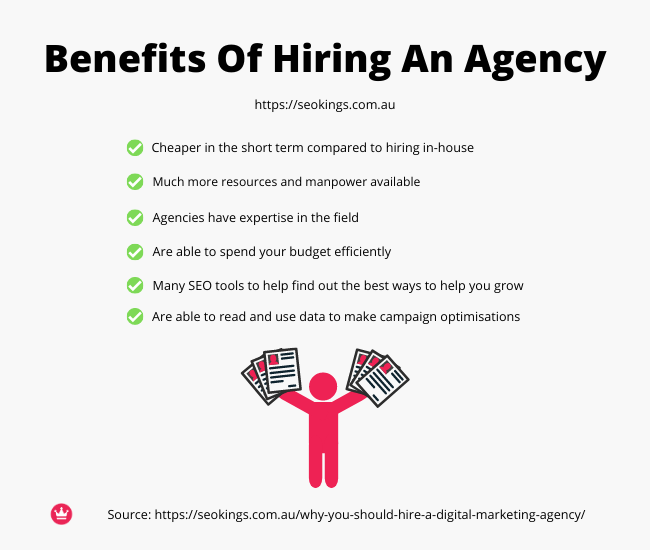 What To Look For In A Suitable Marketing Agency
Hiring a digital marketing agency is not going to be a quick or easy task and you should be wary about which company you elect to do business with.
A bad marketing strategy can see little ROI and can hurt your chances of obtaining desired positions in Google Search if not done within Google's guidelines.
An agency should be reputable and have a proven track record of success.
Often overlooked, but you should also read the blog of the agency you're considering. Agencies that update their blog frequently can showcase their content writing skills, giving you a taste of what you can expect.
Google's algorithm has evolved beyond backlinks as the #1 ranking factor and great content can go a long way in 2021, so when hiring an SEO company – keep all these things in mind.
Some companies will match your needs better than others and you'll want to do the following to figure out who you'd like to do business with:
Before You Start, Make A Plan.
Ask yourself what goals would you like for them to achieve on your behalf.
To help make it easy for yourself, list out the important things you'll want your agency to know when you contact them, such as:
Your Budget: How much you'd like to spend per month on advertising services. An important thing to note is the higher your budget is, the more resources and manpower you'll get.
What Your Objectives Are: What are your goals? Is it getting more readers for your monetised blog, or is it achieving more conversions for your eCommerce store? Let them know so they can make a personalised plan of attack for your business.
What Services You're Looking For: Are you just looking for SEO? Or do you want to also perform paid advertising campaigns on Facebook, Google Ads and Instagram? Keep in mind that the more services you want to undertake, the higher the monthly cost.
Think About The Most Important Pages On Your Website: The truth is, only a small portion of the pages on your site are "money pages", or important pages to users. These will be service and product pages and should be the core focus of your campaign, so let your agency know what these pages are. Your SEO company would be able to figure this out, but it always helps hearing it from the client themselves and shows them we're focusing on the correct pages to build toward a great ROI.
There isn't much needed on your behalf but it always helps to give your digital marketing agency some insight regarding your goals.
Once you have these goals ready and you've prepared some questions, speak with them and see what their process of achieving your goal looks like.
An open and honest response is something you'll want to look for in regards to communication and transparency, given that SEO and paid advertising have vastly different timeframes to show successful results.
Consider Going Local.
This is a highly recommended factor to keep in mind for a lot of reasons, but the main issue it boils down to is communication and timely support.
It may give you the option to meet with your agency face to face which can help build a better, more personal relationship.
There is nothing wrong with doing online meetings or calling your agency as some people may prefer, but going local gives you the option to truly get to know the people you'll be working with.
An agency closer to your area also understands your target market better and if you're conducting a local SEO campaign, can help filter customers into your brick-and-mortar stores much more efficiently.
Most people also consider going with agencies geographically close to support local businesses and in times of crisis such as COVID-19, you may also be able to work out a payment plan with your SEO agency.
A marketing agency in the US or Europe will cost more for an Australian business due to the currency conversion – this may be something small to consider but is often overlooked.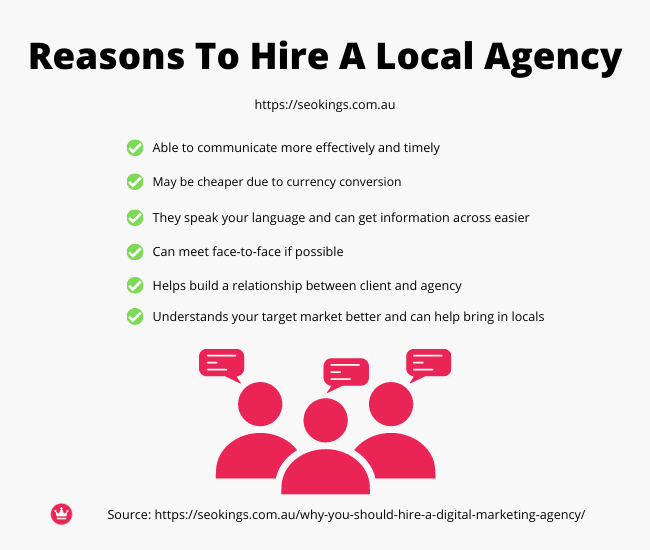 Be Cautious Of Agencies That Guarantee Quick SEO Results
To put it bluntly, they're not necessarily lying but they are being deceitful.
SEO takes a considerable amount of time to show results, usually anywhere between 3-6 months.
This is heavily dependent on your budget, your industry, the competitiveness of the keywords you want to rank for and core updates that Google tends to roll out throughout the year.
If they guarantee rankings within 90 days, you should be wary of this claim, given that Google also specifies that no agency should be guaranteeing rankings whatsoever.
The nature of SEO is very volatile due to core updates and as such, there is no guarantee the success of your website will continue given there is very little information released on what the update contained.
Remember, it's easier to start on the right path than it is to fix a broken strategy.
Final Thoughts
Getting started online is no simple task and in this internet-dominated world, it's highly recommended you find a digital marketing agency early on to help maximize the results you're able to obtain.
It's time-consuming to invest your efforts into learning the different areas of digital marketing, so it may be best left to the experts while you work on creating trustworthy relationships with your customers.
The scalability of using a digital marketing agency likely also outweighs the use of hiring an in-house marketing team in terms of cost and efficiency and the risks tend to be lower.
When you choose to hire a digital marketing agency, look for companies that are transparent about their policies and are willing to answer any in-depth questions you might have.
Overseas agencies may be cheaper but the trade-off is that you lose communication and a certain level of transparency that local digital marketing agencies will employ.
Regardless of the size of your business, getting started with a marketing agency might be a great choice to accelerate growth.
Need some help getting started online? Have a few questions? Feel free to get in touch with our friendly experts!