Is your company voice search ready? If so, you deserve a medal – a 2019 study found that only 4% of U.S. businesses with a physical location are voice search ready.
The truth is that you're probably in the other 96%.
Considering that on average 40% of adults depend on voice search every day, you've got a problem if you're in that majority. Though this might seem to throw a spanner in your current search engine optimisation (SEO) strategy, there are specific voice search SEO strategies your company can use to better your voice optimisation.
From including keyword phrases that fit voice search queries to narrowing down exactly how to approach local SEO, these changes to your current digital marketing strategy can bring the results you want – and get you out of that 96%.
Now that 2022 is here, you need to move with the digital age, so here's how to get the most out of your voice search optimisation.
What is Voice Search?
Voice search is voice recognition technology that allows people to perform google searches by speaking into a device. These devices can be smartphones and computers to home assistant devices. Google voice search queries have gone up significantly over the years, so it's important to understand these developments and include them in your digital marketing strategy.
First, it's crucial to understand that voice search is more natural and conversational in tone – and that it's most frequently performed on a mobile device for local search purposes.
Because they're more natural, voice searches also tend to be longer than text-based queries.
Siri and Alexa are the most widely used devices, followed by Google Home. This is likely because consumers were enticed by early adoption, with 80%% of consumers using voice search for more than 1 year and 40% using for more than 2 years.
Google Home was released in December 2017, missing out on the early adopter market. Only 2% of consumers use Cortana. Of people who use multiple devices, most either prefer Alexa or Google.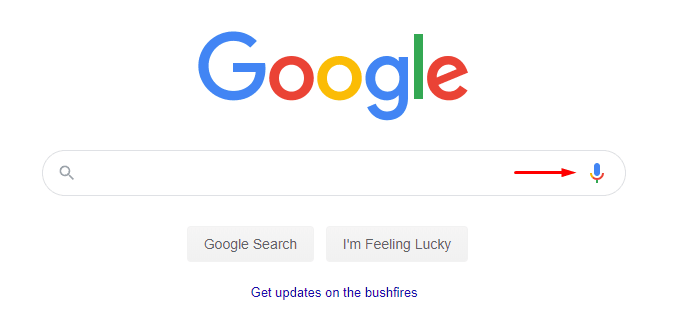 What Do People Use Voice Search For?
The good thing about voice search is that it's not necessarily isolated to a particular niche. A wide range of businesses are utilised every day due to voice search functions.
The important thing to note about voice search is it's mostly used for ease of accessibility. Not everyone using voice search is looking for specific things such as a lawyer, building contractors, or attorneys.
Most voice searches are for quick enquiries, usually, concise answers of 29 words or less provide the best results.
Given that most people use voice search because of its ability to narrow down local businesses, doctors, grocers, supermarkets, pubs/bars, and clothing stores benefit the most.
The BERT update that Google released not long ago, currently affects only 10% of all search results but intends to understand longer, more contextual queries that are constructed by semantics, not necessarily just a general search query.
This is not the first time Google has introduced semantic search before, with their Hummingbird release several years ago giving us a good look at how search engines intend to deal with user intent, given that it can be difficult for search engines to understand exactly what we're looking for.
Along with semantic search, there is a misconception that Google use latent semantic indexing (LSI) as part of their ranking algorithm – a claim for which there is no evidence.
This will influence the way voice search will be used indirectly, given that Google will attempt to filter the most relevant results for you, as opposed to emphasising a particular word and missing the mark on what you were actually searching for.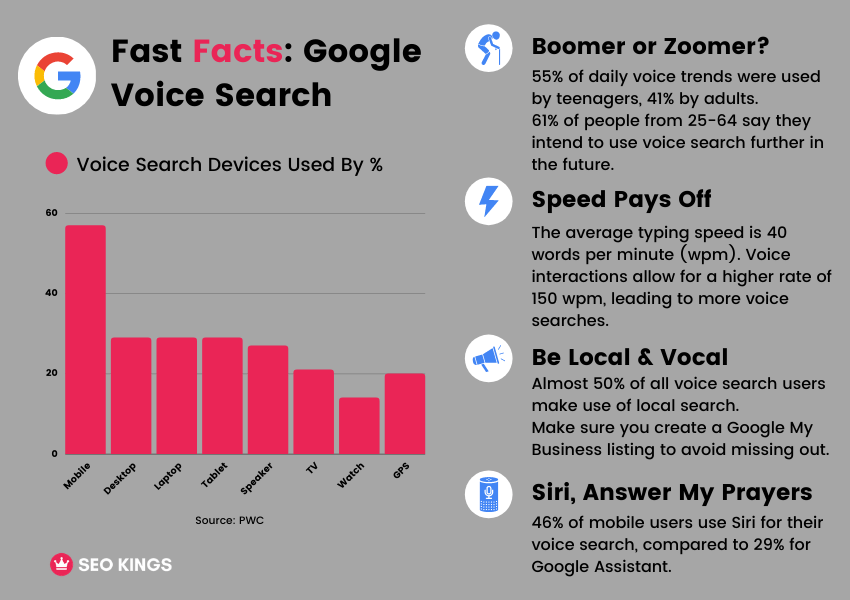 The use of voice search differs amongst demographics, as you would expect. Teenagers prefer to use it for things such as calling a friend, assistance with homework or assignments, playing music, finding out movie times, or checking the weather.
The older demographic, prefer to use it for assistance with directions, to dictate texts, check the time, and occasionally call someone.
All ages tend to use voice AI largely for the same things, however, at different rates, so keep this in mind when you're working out your target audience or targeting a certain group of people.
Give Me The History
Created in 2010, Google Voice Search didn't always start off as a practical, genius way of providing information.
In fact, users were required to call a specific phone number and were then prompted to 'say their keywords' relevant to what they were looking for. From here, it would take them to a blank webpage with a range of results, or be prompted to be redirected to a search engine query page.
Given this was a decade ago, there's been vast improvements in the algorithm and its logic, and best of all, user experience. Google Voice Search is an integral part of Google's product range, especially for Google Maps, allowing users to locally search their area for their desired product or service.
To optimise for voice search, you'll need to ensure that you're making your business appealing, and your content easy to understand.
10 Voice Search Statistics To Sway You
More than 5.7 million Australians now own a smart speaker, that is just under a quarter of Australia's entire population (The Conversation)
About 75% of smart-speaker users search for local businesses at least once a week. (BrightLocal)
According to comScore, 50% of all web searches will be voice searches by 2020 (Campaign)
Voice search queries are usually longer than text searches and characterized by a question – typically three to five keywords long and starting with who, what, when, where, why, and how
Voice search queries typically fall into four categories—30% general information, 27% personal assistant, 22% local information, and 21% fun and entertainment.
By 2020, 30% of web browsing sessions will be done without a screen.
55% of households are expected to own a smart speaker in 2022.
Playing music (82%) is the most popular use of smart speakers currently.
71% of wearable device users think they'll be performing more voice searches in the future.
51% of consumers use voice search to research restaurants.
Smart speaker services have seen significant growth in the rate of implementation within a very short time frame. These voice search statistics above take a closer look at this phenomenon and help observe how deep this technology's penetration actually is.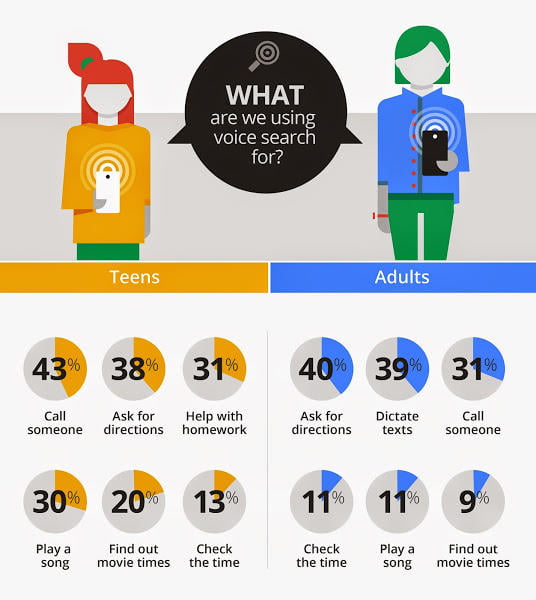 How to Improve Your VEO (Voice Engine Optimisation)
If your digital marketing strategy has a direct effect on your company's success, and voice search use has a direct effect on your digital marketing strategy, then optimising for voice search trends will certainly bring further success to your business.
Whether or not this will bring positive or negative results depends on how well you adjust your strategy to the changing environment.
In the eyes of some industry experts, the rise of voice search is the end of SEO as we know it.
However, other major influencers in the SEO world – Endpoint Digital included – believe that voice search is changing digital marketing for the better. Whether you view the glass as half-empty or half-full, you can't deny that voice search is affecting digital marketing and SEO strategy, whether that be in a good or bad way.
These are the 6 steps you should keep in mind to optimise for voice search, given that it's a trend that's already started to take over the SEO world.

1. Keep your local SEO up to date
Maintain accurate information and select appropriate business categories. If you haven't claimed your Google My Business listing yet, there's no better time than now.
Claiming and optimizing your Google My Business listing is a great way to provide Google with additional details about your business, such as industry, phone number, address, business hours, and more. Keeping this properly up-to-date increases your chances of showing up in the results when a related voice search is performed.

2. Make your content easy to read and understand.
People who are searching the internet on their mobile devices are looking for content that's been optimized for this platform. Make sure your content is easily readable, scannable, and doesn't have any annoying pop-ups or ads that could hinder them from getting the information they need.
Use simple sentences, short paragraphs, and bold headers to break up your content as much as possible. Don't forget to use descriptive alt tags and titles for your images to optimize them for Google.
With the rise of featured snippets, knowledge panels and instant answer boxes, creating content that is simple to understand and interpret allows for users to get the answer they're looking for without even clicking on a website.
Being able to answer a user's search query is a hard skill to master, but doing so allows your website to show up in these desired spots on Google and will greatly benefit voice search users.
Making your content easy to read and understand starts with writing good quality content, especially since content is the most efficient way to grow your organic SEO reach.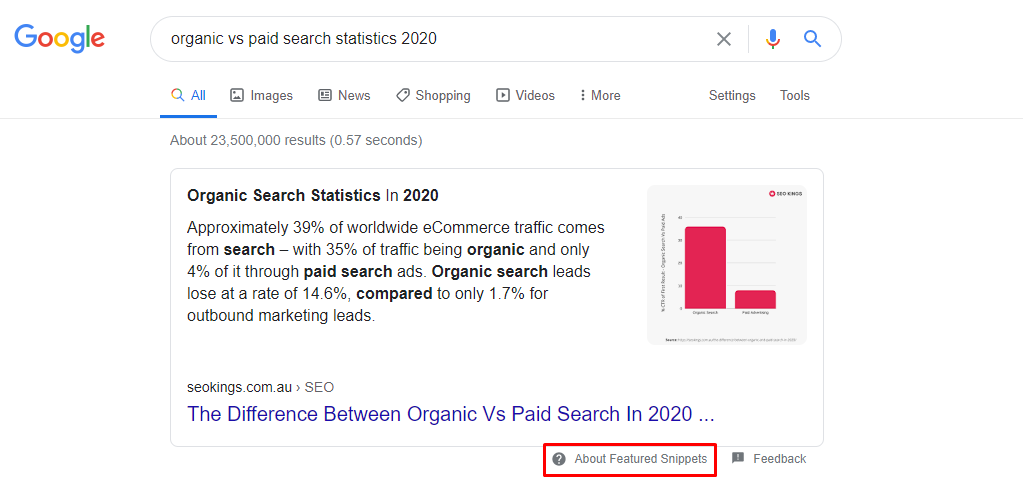 The above picture is a featured snippet box regarding organic vs paid search statistics, which provides answers on a voice searchers query without needing to actually click on the website itself.

3. Target long-tail keyphrases that sound human.
People use a more "natural" language tone when using voice search, so targeting long-tail keywords is a must. To do this, you must think about how people naturally speak.
How would you ask certain questions? Or what type of spoken questions might bring others to your site? This might be a different kind of long-tail than you're used to.
It's more about real speech and not so much about keyword variations. You need to know and target as many differences as possible. By using tools like Google Search Console, Ahrefs or SEMRush, determine what long-tail queries inhabit your content to understand the types of questions people are searching the answers to.

4. Create FAQ's.
Another great way you can use the customer and SEO data you've collected is to create FAQ pages that focus on those long-tail key phrases. Try to group common questions on the same page, and write as naturally as possible. If you need to make multiple pages to sound more natural, go with that method.
You want the search engines to have the best chance of pulling answers/information from your site, so expect direct, long-tail questions. Most voice interactions follow a Q&A cadence so if your content addresses a particular question, then it's more likely to show in answer to that question.

5. Simplify your website.
Regularly, sites are cluttered with nonsense and each page covers an expansive number of topics, which can lead to confusion by voice devices about where to pull information from that meets the user's needs. Instead, move away from highly complex and over-stuffed UIs that make it difficult to find out the main goal of the page.
Make URL slugs SEO and user friendly, ensure the readability of your content is high and avoid technical errors like 404 pages (by using 301 or 302 redirects where necessary) to ensure the best results.
In October 2020, Google announced they are pipelining a feature that aims to consider passages from pages as an additional ranking factor – a claim that was heavily misinterpreted when the news was first announced.
More evidence to suggest that keeping your content 'tidy', organised and user-focused will go very far in the world where voice search dominates – whenever that may be.

6. SEO and VEO go hand in hand.
The same principles of SEO apply to voice search, so remember to incorporate them when it comes to ranking not only for voice searches in general but most importantly, locally.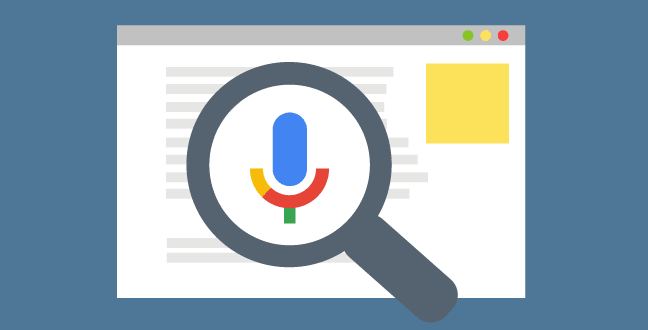 What About Privacy?
In a recent consumer report, it says Australians worry about such speakers. Nearly two-thirds of people surveyed say they had some level of concern over the privacy risks posed by smart speaker technology – 17.7% said they were very concerned.
Perhaps people are concerned about recordings of their discussions being sent to colleagues without their knowledge or consent or admitted as evidence in court.
But many believe they are much less concerned than they should be about where this industry is headed next. Studies show that smart speakers aren't just listening to what we say.
Gradually, they are also listening to how and where we say it. They're listening to our vocal biometrics, to how we pause and stutter, to our tone of voice, mood, and accent, to our state of wellbeing, to the shape and size of the room we're sitting in, and to the ambient noises, music and TV shows on in the background.
All to extract more and more data about who consumers are and what kinds of things they do.
Is Your SEO Strategy Ready for Voice Search?
Adoption of voice search and voice assistant-based dealings is on the rise, and as marketers think about ways to make sure their brands are "heard" in the consideration set, it's vital to go back to basics.
While the era of voice is rushed in, take a step back and think about how your users currently interact with your brand and how voice can reduce the resistance for them.
Take some time to do this – don't just react. Have a brainstorming session and map out some experiences in the customer journey that could be enhanced by voice optimization.
For some, it will mean making sure you go through the proper channels to make sure your location shows up for relevant queries.
The tactics might change slightly, but the strategy remains very similar. Make the experience relevant, seamless, enjoyable, and you can win in the voice search trend.
Summary
As the world of search continues to evolve, marketers must learn new strategies to keep up with these variations. Follow the tips in this post to ensure you're a step ahead of your competitors when it comes to voice search.
From search intent to local SEO, there's a lot to manage when it comes to optimizing for voice search. However, with the changes that result from new technology come new openings for growth.
If you haven't invested in your digital marketing strategy yet, now is the time to start. If you're stuck on how to make your SEO strategy more dynamic, we're here to help.
If you're looking to launch any SEO campaigns and start optimizing your website for voice, Endpoint Digital is your local Melbourne Digital Marketing Agency looking to maximise your revenue and help unlock your true digital potential.
If you're skeptical about hiring a digital agency, make sure you do your research and find the one that best suits your needs.